Microsoft's Barclay prepares for new challenges
Working with the channel is always going to be a challenge when you are employed by one of the world's largest software vendors. It becomes even trickier when the message coming out of global HQ is that resellers need to make changes to take advantage of the way the market is heading.
This Article Covers
RELATED TOPICS

Download this free guide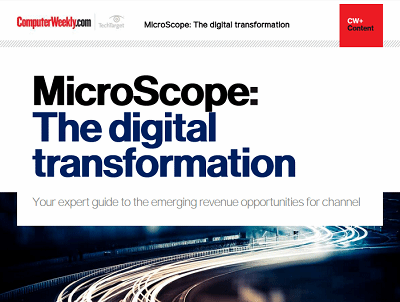 Emerging revenue opportunities for the channel with digital transformation
Digital transformation is a phrase that means many things to many people but for it to have any real relevance to the channel then it needs to mean a chance to make money. This guide will share some of the recent developments in the channel and the latest thoughts about the issue.

By submitting your personal information, you agree that TechTarget and its partners may contact you regarding relevant content, products and special offers.

You also agree that your personal information may be transferred and processed in the United States, and that you have read and agree to the Terms of Use and the Privacy Policy.

Working with the channel is always going to be a challenge when you are employed by one of the world's largest software vendors.

It becomes even trickier when the message coming out of global HQ is that resellers need to make changes to take advantage of the way the market is heading.

Clare Barclay, director of partner and strategy at Microsoft, knows that the next few years are going to see a critical transition in the software channel. The traditional shrink-wrapped program model will give way to a hosted world where the demands on channel partners are going to be different.

This is not just the Microsoft view of the world.

You would have to have been studying corals in a submarine for the past six months not to have noticed that the latest buzzwords include hosted, cloud and on-demand.

"It has been a slow burner for the past five years," says Barclay, "but we are seeing customers buying more services and related technology online and there are predictions from the analysts like Gartner [about significant growth], so we have to help out channel partners understand this opportunity.

"The traditional, off-the-shelf product continues to grow at 6%-7% a year, but the software plus services market is growing at 30%-40%."

Just as in other markets - and security and storage are making the same transition - the emphasis is on getting resellers to improve their consultancy skills. As the traditional source of revenue decreases, so the need to replace that margin is driving a move towards developing management and other services.

Consultancy opportunity

"With electronic distribution, smaller VARs will say that in some ways this is challenging but it also provides them with much more of an opportunity to go back to all their customers and upsell them," she says.

"I think they have too. If you are just continuing to sell traditional product, then things are going to be difficult.

"Downloads online is the way that the market is going. Most software vendors are looking at electronic distribution, so you can't just be thinking about shrinkwrap; you have got to think about how will people buy product in the future.

"The market is moving and customer preferences are moving, and we want to embrace this."

Anyone in any doubt that this is the direction the vendor is going in will have noticed the sheer focus and volume of announcements at the recent World Partner Conference in Houston, Texas, around the hosted model, with a forecast of increasing numbers of products being digitally distributed.

"The market is changing and through the internet customers are able to make choices they weren't able to before," says Barclay. "How do we help our partners gain more profitable business. How do we help them with skills?

"We have to think about where the partners make their investment and make sure we are providing support and marketing and sales."

Barclay hopes that Microsoft can communicate its message clearly because taking its channel through a transition is going to be difficult if there are problems understanding the destination.

"We have to make it real simple for our partners and it is not simple," Barclay admits. "We can help partners chase the market we are going after. As a vendor you have got to try and think about what is next, but in a channel role if you cannot make it clear to partners, then it will never become a reality."

As the world changes for the channel, it also changes for Microsoft and the vendor is setting out its vision of what software plus services actually means.

In practical terms, Microsoft has outlined the financial package for partners offering customers a choice of online applications including Exchange, Office Sharepoint, Office Communications and Office Live Meeting. Resellers get 12% of the first-year contract and then 6% of the ongoing fee.

But Houston was also the platform for Microsoft to talk about its vision of the future, which includes extending its reach into other markets.

"We have a wealth of portfolio and are trying to drive into different markets," Barclay says. "We have Office, Windows and Server and are trying to get into virtualisation and unified communications, and get resellers to think about it because these are new revenue streams and opportunities."

Barclay feels that Microsoft has a strong enough relationship with its partners to be able to bring them along into this new world. She points to the recent success of the Houston event as testament to the interest in its channel messaging.

One Microsoft ambition is to use technology to improve the relationships between resellers and customers. There has been a great deal of ink spilt about social networking and vendor efforts to improve collaboration via online meeting rooms.

"We have got to help our partners work with other partners and see the power of the resellers talking. That will become more and more important," Barclay says.

There will be plenty of eyes watching Microsoft's every move, and Barclay knows that she has a role that comes with a certain amount of pressure as a result.

"This is one of those jobs where no day is the same. You are looking at every asset and asking what we are doing to service those partners and making sure we are still the best vendor to partner with," she says.

But it is Microsoft's responsibility to lead the market. The vendor's every move attracts the media spotlight and its approach to developing a channel that can cope with the hosted model is going to be scrutinised by partners as well as rivals.

Tilt from the top

In favour of Barclay and her colleagues is the support that the transition has in the most senior quarters of the company. With Bill Gates gone, the development of cloud computing comes on Steve Ballmer's watch and in his role as CEO he has spoken not just at Houston but various other venues about the need to develop the hosted model.

As Microsoft tilts its business to take advantage of the internet, it is in a position to share the challenge with partners. Barclay is determined to get them involved with the future of the software market.
MicroScope+
Content
Find more MicroScope+ content and other member only offers, here.
Read more on Sales and Customer Management