Growth opportunities in digital imaging
In the current financial climate many resellers are looking for ways to move into new markets and generate revenues and customers outside their traditional base. Digital imaging has been one of the few consistent growth areas over the past few years and is likely to remain a good choice for increment.

Download this free guide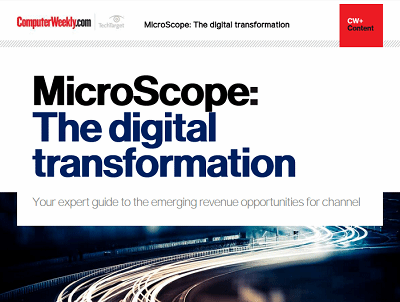 Emerging revenue opportunities for the channel with digital transformation
Digital transformation is a phrase that means many things to many people but for it to have any real relevance to the channel then it needs to mean a chance to make money. This guide will share some of the recent developments in the channel and the latest thoughts about the issue.

By submitting your personal information, you agree that TechTarget and its partners may contact you regarding relevant content, products and special offers.

You also agree that your personal information may be transferred and processed in the United States, and that you have read and agree to the Terms of Use and the Privacy Policy.



In the current financial climate many resellers are looking for ways to move into new markets and generate revenues and customers outside their traditional base. Digital imaging has been one of the few consistent growth areas over the past few years and is likely to remain a good choice for incremental revenue, despite the current commercial turbulence in the world economy. Over the next 12 months what are the growth opportunities within this market niche and what opportunities are open to you as a reseller?

Document imaging
For business-to-business resellers already hooked into the main revenue streams there is the opportunity for a document imaging sale, traditionally a technical long sale mainly supported by value-added resellers with investment in the or high-end print solutions specialists. It is now more available to mainstream resellers, however, as the technology has become easier to integrate and the high-end solutions are more accessible.

While still a big leap for a lot of resellers, the market is still reasonably niche and offers the possibility of strong growth without tripping up over all of your usual competitors. It is also a wide-ranging technology that can apply to almost any business and has its roots in ROI and business security, both of which are hot topics for IT and purchasing managers at the moment.

One of the benefits of introducing this technology to your customers is that it is a true solutions sale, working with your customers on their document flow and business practice always has the opportunity for you to present further technical benefits. Many company networks may have weak points which large amounts of document traffic will highlight, as well as the need for incremental server storage and/or new server systems. Along with the hardware installation there will be software integration and staff training to complete the solution – almost a complete tick list for any value-added reseller working with business customers.

Digital cameras
For consumer-orientated resellers, the digital imaging market is more about cameras and camcorders, with total for 2009 expected to be around 107 million units.

At the high end of the market digital SLRs are still the big ticket items. Although the entry-level units now come in below £300, the majority of the products are in the £500-£1,000 range, well above most resellers' average ticket price.

The technology in digital SLR has stabilised over the past two years, with incremental improvements being made in the back end of the units as the lenses and other accessories are already solid products from the film SLR market. The increase in megapixels and image processing technology has finally led to digital SLRs being considered superior to their film counterparts, and this combined with the low entry level prices will see digital SLR continue to be a fast-growing high ticket value market.

As with most technology platforms the work done on digital SLRs has been continually creeping down into the compact camera market, with some models now hitting 14.7 megapixels – that is a 3MB JPG file, or a hefty 20MB if you use the RAW format, so it is a good job you can now get flash memory cards with up to 32GB of storage.

Most of the major manufacturers are also pushing units now with huge zoom capabilities, with 18x zoom not uncommon, and the challenge here is to make sure you get some form of image stabilisation, unless you are using a stable platform for shooting – even professionals cannot get a great result at full zoom without stabilisation.

One of the challenges in selling compact digital cameras is the excessive amount of technical information associated with them, from 'f' numbers and exposure compensation to ISO modes. This information means very little to the vast majority of users, and can often be a hurdle to purchasing. As with most technological products, users rarely use more then 5-10% of the unit's functionality, so pitching the features in a way users at a more basic level can understand should enable better uptake. Most manufacturers have features that users do not need to manipulate but help them to take great photos easily – face detection and smile detection are two of the current crop which are easy for users to grasp and benefit from.

Camcorders
Closely associated with the digital camera market, the camcorder market has some of the most available at the moment, with flash memory and hard drive units becoming more common and one of the most used technology badges, high definition, now becoming standard.

Products such as Sony's TG3 are leading the way with full 1080i HD video, 5.1 surround sound and the ability to take 2 megapixel pictures while recording video onto removable flash memory, and all in a unit smaller than some compact digital cameras.

Scanners
The one area of digital imaging in decline is the traditional scanner market, which although now a very cheap and high-quality product is often ignored in favour of the increasingly popular multifunction printers which often contain exactly the same scanner technology for not much more than the price of the scanner alone – great for digitising your old photo collection or printing your latest digital shots.

Now very often an add-on sale to digital cameras and associated products, but still a bedrock of the digital imaging market.

The world financial situation may be the worst it has been in many years but the digital imaging market and the technology behind it offers opportunities across a wide range of potential customers for resellers large and small.

MicroScope+
Content
Find more MicroScope+ content and other member only offers, here.