Mobile World Congress 2009: What's new
'Don't slam on the brakes,' mobile bosses urge in Barcelona. Optimism came out with the sun at this year's big mobile show in Barcelona.

Download this free guide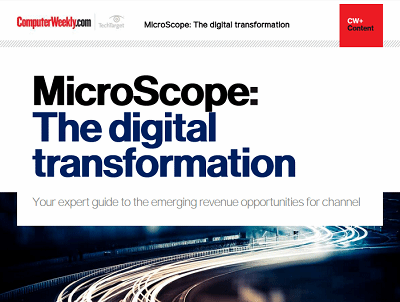 Emerging revenue opportunities for the channel with digital transformation
Digital transformation is a phrase that means many things to many people but for it to have any real relevance to the channel then it needs to mean a chance to make money. This guide will share some of the recent developments in the channel and the latest thoughts about the issue.

By submitting your personal information, you agree that TechTarget and its partners may contact you regarding relevant content, products and special offers.

You also agree that your personal information may be transferred and processed in the United States, and that you have read and agree to the Terms of Use and the Privacy Policy.



"Don't slam on the brakes," mobile bosses urge in Barcelona.


Optimism came out with the sun at this year's big mobile show in Barcelona. Mobile operators in particular were saying not only that they still expect some growth despite the world's economic troubles, but also that they expect to be one of the engines pulling the world out of recession.

César Alierta, chief executive of Spanish telecoms company Telefonica, which owns mobile operator O2, warned against braking too hard in a downturn, equating it to the danger of doing so on icy roads. He was speaking at the inaugural keynote at the Mobile World Congress 2009 in Barcelona.

"We cannot afford the luxury of not making the telecommunications industry the main driver of economic recovery," he said.

According to Alierta "the telecommunications sector has a 'multiplier' effect on the economy and is one of the largest contributing sectors to gross domestic product and job creation. It is a highly productive sector and the use of its services further boosts… productivity in other industries".

He urged governments to work with the telecoms and mobile sector, but stressed that this does not require public funding but rather "an adequate, predictable and stable regulatory environment" to provide an incentive for investment and innovation.

Various studies have estimated that so called Next Generation Networks offering higher-speed mobile broadband will directly create more than two million jobs in Europe and add £800bn to European gross domestic product. But it is feared that many mobile operators will cut back on planned investment in the current downturn.

Alierta pointed out: "Classic fiscal policy predates the digital era and therefore requires modernisation in order to contemplate the benefits of investing in the information society."

Speaking next, Vodafone boss Vittorio Colao continued the metaphor, saying "someone might be tempted to use the brake, but we also have to be aware of the great value we can bring to the customer".

He acknowledged that some cost-savings would be necessary, describing the way forward as "a common technology roadmap (especially in Long Term Evolution), more sharing of sites and perhaps fibre". He also called for more experimentation with new services for customers and "smart co-operation between the different players in the system", including games and media companies.

Despite thinking the mobile sector "really brings productivity improvements and growth" Colao is against protectionism. He said: "Let's not ask for protection, subsidies or regulatory intervention. These are short-term gains only."

The third speaker, Jon Fredrik Baksaas, president and CEO of Scandinavian mobile operator Telenor Group, argued: "If we get this right, mobile broadband will have the same deep-changing impact on peoples' lives as basic mobile services have had."

The industry's optimism may be justified. Some people will give up their cars before their mobiles. There are also a host of new phones and NetBooks on the market with genuine appeal.

Samsung, LG, Acer, HP, Nokia and Sony Ericsson all demonstrated new mobile internet devices. However, though highly influential on the design of mobiles at MWC 2009, Apple itself was again conspicuous by its absence from the exhibitor list. Mark Newman of research consultancy Informa says: "The company sees the end-user rather than the operator-middle-man as the key to its success, and the Mobile World Congress is a strictly trade-only affair."

Touch-operated phones

Nevertheless, following the success of Apple's iPhone, there were many touch-operated mobiles on show and even Palm seemed to be making a comeback with the Pre.

Peter Giblin of UK-based research consultancy Futuresight, described the Pre as "a massive step-change" and it apparently does a lot of the hard work of synchronising contacts for the user.

Also impressive were LG's newest handsets sporting its S-class 3-dimensional user interface, which enables the user to scroll through photos as if they were in a picture gallery, or whiz through a menu of phone options as if it was on a rolodex.

Touch-screens were also on show from most major handset makers, including Samsung with its Touch Wiz user interface, BlackBerry (with Storm), LG and others. Screens are tending to get bigger, with Samsung showing a 3.7in Omnia multimedia phone and Sony Ericsson a 3.5in phone one.

There is more video on mobiles too and Lars Vestergaard, an analyst with IDC, said he liked Sony Ericsson's W995, which comes with unlimited access to films. These have to be side-loaded on to it using the company's Mobile to Go platform.

Mike Short, vice president R&DTelefónica Europe and former chairman of the Global GSM Association, predicted: "The growing importance of mobile video will overtake the interest in mobile TV."

Mobile handset makers may also be able to get users to part with cash by upgrading popular parts of their products, such as the built-in cameras. For example, in the second half of this year, Sony Ericsson, will sell the IDou, which has a 3.5in screen and brings together music and photography with an astonishing 12 megapixel camera..

The move towards mobiles as fashion items is gathering pace too, with an opportunity that makes for bigger profit margins. There will however, be a move towards cutting the cost of more basic mobiles and companies like Sagem, which now only designs handsets for others, could benefit from an increasing trend towards outsourcing more mobile research and development.

Yet, despite the credit crunch, Motorola displayed a diamond-studded version of its popular Aura handset costing £5,000. The handset was customised by London-based Amosu, founded by Alexander Amosu.

He also makes a diamond-studded version of the BlackBerry costing £5,000, for those who like a bit of email with their bling, and he had with him the most expensive mobile at the show – an £89,000 iPhone with diamonds adding up to 16.4 carats and a white-gold casing.

The phone was made for a Russian client and was shown only to the select few.

"When you've got a couple of villas, a private plane, and a sports car, you want a mobile that makes a bit more of a statement, he says.

This might also be achieved with the LG Prada watch phone or the LG Watch phone. The LG Watch phone enables you to send and receive text messages – you send them using voice to text conversion – and to make calls by talking into the phone (you do not need to speak into your wrist as its directional microphone will be able to pick up your voice).



Mobile software gets more useful

So much for the outsides of phones, but what about the insides? Many mobiles will cater more for music. Samsung's Beat phone lets its owners scratch and loop music like a DJ and Nokia already has phones that come bundled with unlimited access to music.

But the big thing in software at this year's MWC was Application Stores. Apple already had one for the iPhone and now so do Microsoft, Nokia and Samsung. According to Short: "The range of content and applications in the Apple iStore will continue to be the source of much discussion and innovation."

Why so many Application Stores? It is not clear whether it is just a question of keeping up with the neighbours or whether vendors hope to keep people using their handset brand because of a particular downloadable application they get used to. At the show, Microsoft announced the launch of a Windows Mobile application marketplace and Nokia launched Ovi Store, its application store.

Being able to download little applications from Google's Android Marketplace was already possible for T-Mobile customers with the G1 Android phone, but at its launch of the second Android phone made by HTC, Vodafone stressed the wide range of applications available for it.

Oliver Gerstheimer, founder of German-based consultancy Chilli Mind, reckons the typical user won't download more than seven applications to his or her phone.

But the good news is that software for mobiles is getting more practical. One of the most popular applications in the Apple apps store, when it was launched, was LogMeIn, which for $29.99 (£21) enables users to look at, edit and email files from the PC at home using their iPhone.

As well as this product, the company, originally set up in Budapest, Hungary in 2003 and now a Delaware incorporated company in the US, also offers a number of other products, including packages to help support staff manage mobiles or PCs.

IT Reach costing $2,000-a-seat helps IT people fix users' problems remotely, while Rescue, also costing $2,000 per support person, means that when a user dials an operator call centre, the operator's support person can see a screenful of diagnostics about the phone, such as how much battery power is left, how much memory is left on the phone, and so on.

The customer support person can even fix the problem themself without making the user go through a painful sequence of commands. The solution requires the user to download some software and grant permission on a one-off basis for the operator to look at their device.


NetBooks vs. mobiles

Some software for making your laptop or Netbook PC boot-up faster also looked very practical. Hyperspace NetBook software from Phoenix Technology provides 'instant on' on a NetBook PC, so it works straightaway rather like switching on a BlackBerry. It costs $39.99 and enables the user to go straight to the internet for browsing or using web-based email as soon as they open the NetBook.

The company's Hyperspace Dual product is for people with Windows software as well as Linux on their NetBook. Costing $59.99, it switches a NetBook on instantly, so the user can check web-based applications while waiting for Microsoft Windows to boot up.

The software, which seemed to work a bit slower on a laptop than on a NetBook, can be used on the latest laptops or NetBooks with Intel Centrino or Atom chips. It is also loaded on to the Freescale circuit board designed by Arm and will come built in to a new Asus laptop shipping in April.

But what will mobile workers carry in the future? Mobiles or NetBooks? As mobile screens – and sometimes the phones themselves – get bigger and PCs are often replaced with NetBooks for trips, there is a debate over which the mobile user will choose to do their work or watch entertainment on.



Growing power gap and green mobiles

Perhaps the question is academic, as Gerstheimer reckons: "We will soon all be carrying two mobile devices with us." Why? "Because as mobiles do more, including displaying video, the gap between the amount of battery life needed and that available with today's technology will get much wider," he says.

"So people will need to carry two devices to ensure that one is always working."

However, there are a couple of developments that should make it easier to keep devices charged up. First, a number of solar devices were launched at Mobile World Congress 2009, including Blue Earth from Samsung, available in the second half of the year.

This has a solar panel on the back. Such phones are ideal for people in emerging markets without access to power and could also be used to supplement power from a standard battery.

Solar chargers for mobiles were available before, but some were quite bulky and tempting to leave behind for all but the most rugged off-grid excursion. So a built-in solar panel could prove a good solution.

Getting access to a charger if you forget to take yours on a trip should also get easier with handset makers belonging to the GSM Association agreeing on a Universal Charger that can plug into a mini-USB socket. This should be widely available by 2012.

Gerstheimer, who was trendspotting for several German companies, said there is also a kind of plate you can put any mobile phone on that charges it up straightaway using electromagnetic radiation.

Solar-powered phones will help open-up the market for mobile handsets to new customers, the untapped growth of emerging markets perhaps explaining why the mobile industry is a bit more optimistic than some other industries at the moment.

Overall, the ICT sector grew 4.8% last year and Telefonica posted organic year-on-year growth of 7.4% in its last quarter.

With Vodafone cutting jobs in late February, it is clear the industry is not entirely immune from the effects of the economic downturn, but if just some of the industry's optimism is justified, there should still be scope for growth in global subscribers from the current 4 billion, and new revenue sources from the introduction of new services.




Contacts:

LogMeIn

Hyperspace

Futuresight

Chilli Mind




MicroScope+
Content
Find more MicroScope+ content and other member only offers, here.