Computer Weekly European User Awards for Enterprise Software: Winners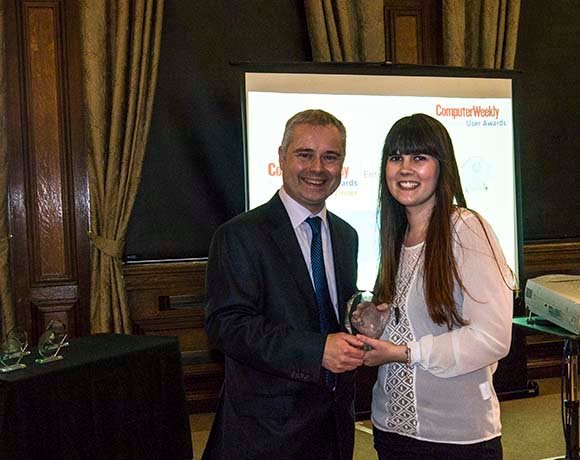 Katie Swan from Huddle collects the winner's trophy from Brian McKenna, business applications editor of Computer Weekly.
Huddle was co-founded by Alastair Mitchell and Andy McLoughlin when they became frustrated with existing enterprise technology's inability to help people work together. Alastair has grown Huddle to 200 people – spread across London, San Francisco and New York – raised in excess of $40m in funding and seen sales triple year on year. Through his leadership, Huddle is now used by more than 100,000 businesses and government organisations worldwide, including Nasa, the Ministry of Justice, Sega, Kia Motors, Unilever, AKQA and P&G
Huddle is used by 80% of UK central government, including the Cabinet Office and Crown Prosecution Service. Huddle has shown itself to be the leader in government cloud collaboration – it is the third most successful supplier on the framework when measured by value and it secured 14% of the deals in the latest financial year (April 2012-2013).
In 2011, Huddle joined forces with FCO Services to provide an IL3 accredited service, becoming the first software as a service (SaaS) offering to do so. A true example of a British success story, Huddle is now taking this expertise to the US. It has secured contracts with In-Q-Tel to develop a FISMA-certified instance of Huddle for the US government, starting with the Department of Homeland Security Science and Technology Directorate, and the National Geospatial-Intelligence Agency.
View All Photo Stories