Cage director found guilty of terrorism offence after refusing to disclose passwords
Muhammad Rabbani, international director of Cage, is convicted of an offence under the terrorism act after refusing to disclose his mobile phone PIN and laptop password under Terrorism Act
A director of the advocacy group Cage has been found guilty of offences under the Terrorism Act, after refusing to hand over his mobile phone and laptop passwords to the police at Heathrow Airport.
Muhammad Rabbani was convicted at Westminster Magistrates' Court in London, after a one-day trail. The case will have implications for thousands of people stopped at UK airports and ports.
Rabbani, the international director of Cage, which supports victims of torture, was given a conditional discharge and ordered to pay £600 costs and a £20 victim surcharge.
Senior district judge Emma Arbuthnot said Rabbani had taken a "calculated risk" by not handing the passwords over – despite repeated warnings – knowing that on previous occasions officers had taken no further action.
Police right to seize passwords
The trial was a test case for the controversial Schedule 7 of the Terrorism Act 2000, which gives police powers to stop people, question them and inspect electronic equipment at ports and airports, even when there is no suspicion of any crime.
Tom Little, prosecuting, conceded that Rabbani had not been stopped randomly or because of a hunch by police in the airport.
Cage provoked controversy in February 2015 after it suggested that harrassment by the Security Service, MI5, contributed to the radicalisation of Mohammed Emwazi, also known as "Jihadi John" a masked Islamic State militant who appeared in disturbing hostage videos released on the internet.
Rabbani, a 36-year-old campaigner from Bethnal Green in London was questioned by officers from the Metropolitan Commands Ports Unit at Terminal 4 Heathrow, after returning from a wedding in Doha, Qatar, on 20 November 2016.
Cage director Muhammad Rabbani was convicted of wilful obstruction during an airport search under Section 7 of the Terrorism Act
Rabbani told the court that he had met a man at the wedding who told the Cage director and lawyers from the American Civil Liberties Union that he had been tortured with the involvement of US officials.
He had agreed to approach lawyers in the UK on the man's behalf, to bring a legal claim in the UK to run in parallel with a similar legal action in the US.
The man had "issued instructions to Cage to act on his behalf for the torture he had suffered", he said.
Protecting client confidentiality
The campaigner said he could not hand over the passwords because he wanted to protect his client. He had confidential notes on his mobile phone and 30,000 confidential documents on his laptop.
"I found an enormous responsibility to discharge the trust given by that client and the lawyers I met the night before I travelled," he said.
PC Tariq Choudry told the court that Rabbani had refused to give details of his work when stopped, apart from disclosing the fact that he was a director of a company. "He kept saying I did not need to know and it would not help me anyway," said Choudry. "He said it was against his civil rights to hand over the passwords."
Rabbani also raised concerns over the privacy of his information with counter-terrorism police.
Police later acknowledged in court that they were aware who Rabbani was, and of his role as a director of Cage, at the time he was questioned.
Rabbani was arrested and taken to Polar Park Police Station, where he issued the police with a statement after consulting his solicitor, Gareth Peirce.
He told officers that there was nothing unlawful on any of his devices and that he had given his solicitor his password and PIN, with instructions to provide them to the police the following day.
"I have been happy to comply with the procedure genuinely, but I know that the contents of my devices affect the privacy and confidentiality of others, including the fact that my work is, in large part, to do with vulnerable people who have placed their trust in me and my colleagues," he said.
Wilful obstruction charge
The court heard that Rabbani's lawyers were negotiating with police to appoint an independent counsel to assess whether the information on his devices was exempt from disclosure under the codes of practice for Schedule 7 of the Terrorist Act.
But two days after both sides had agreed on an independent counsel to examine the evidence on the computer, Rabbani was charged with wilful obstruction or seeking to frustrate a search under Schedule 7. He appeared at the magistrates' court on 20 June 2017 where he entered a "not guilty" plea.
Cage describes itself as "an independent advocacy organisation working to empower communities impacted by the War on Terror". According to its website, its "work has focused on supporting survivors of abuse and mistreatment across the globe".
Rabbani told the court that he had been stopped between 20 and 30 times at airports by police and members of the Security Service. There were "numerous occasions where MI5 officers approached me", he said.
Insufficient safeguards
The government added safeguards to the code of practice governing how police should conduct searches, in the wake of a landmark legal ruling in 2016 over the arrest of David Miranda, the partner of investigative journalist Glenn Greenwald, during a stopover in London in August 2013.
The safeguards were introduced through a code of practice, which invokes sections 10, 11 and 14 of the Police and Criminal Evidence Act (PACE) to protect privileged information, journalistic material or material held in confidence acquired in the course of any trade, business, profession or other occupation.
Henry Blaxland QC, for Rabbani, said there was a strong inference that his detention at Heathrow was not for a lawful reason, but for a collatoral purpose, "either because his name was on a list, which is not a proper reason, or there was some interest in the material in his possession, which may well be confidential".
Blaxland argued that the safeguards were not sufficient to protect information on Rabanni's electronic devices and that the Cage director's actions did not amount to wilful obstruction.
Little told the court that the magistrates' court was not the right place to consider the code of conduct: "My submission is this court is not the proper forum to determine omissions in a code."
He said the stop had been lawful, and the attempt to obtain Rabbani's passwords did not breach his privacy rights under Article 8 of the European Convention on Human Rights.
Cross-examination
Under cross-examination, Rabbani was asked why he did not alert the arresting officers to the sensitive content of the material on his computer.
He said that on previous occasions when he had been stopped, he had been able to reach an agreement with police officers that disclosing his laptop and mobile phone keys was not necessary.
"Typically, I was in examination phase. Officers ask for my device. I explain I should not be giving that to you, because it breaches my rights and privacy. The two officers go to someone senior, bring back my devices and I go on my way," he said.
Rabbani said he was concerned that if he mentioned the case he was working on in Doha, he would then be required to answer questions about it, under Schedule 7 of the Terrorism Act, which gives no right to silence.
"I was acutely aware of my obligation to answer all the questions put to me under Schedule 7. Had I mentioned the client, I would have to answer all the follow-up questions," he told the court.
He said he had booked the trip to Doha only eight hours in advance and had not considered leaving his laptop at home to protect the data on his machine. "I was a bit rushed, and if I had more time, I might not have taken it," he said.
Rabbani to appeal decision
Following the verdict, Rabbani read out a statement to a large group of supporters and journalists, on the steps of Westminster Magistrates' Court, describing his treatment at Heathrow as the equivalent of a "digital strip search".
"Today's judgement, based on the judge's and prosecution's acceptance that I am of good character and worthy of belief, highlights the absurdity of the Schedule 7 law," he said. "They accept that at no point was I under suspicion, and that ultimately this was a matter of having been profiled at a port.
"I took the decision to not raise the details of an important torture case before my arrest, and ultimately I have been convicted of protecting the confidentiality of my client. If privacy and confidentiality are crimes, then the law stands condemned."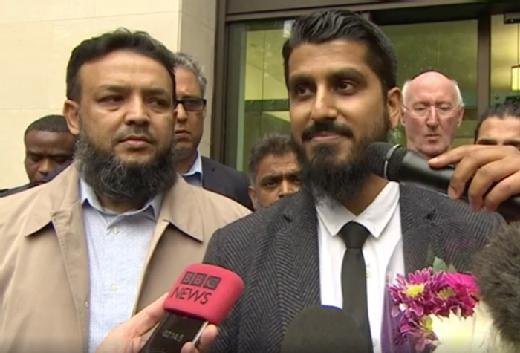 Rabbani vowed to appeal the court's decision, saying the only option was to change Schedule 7 of the Terrorist Act.
"The principle of presumption of innocence, the principle of client confidentiality and the principle of personal privacy are all too important to surrender even with the threat of conviction. Maintaining the trust of the torture survivor is key to holding the perpetrators of his torture to account," he said
Schedule 7 is a vital tool, say police
Commander Dean Haydon, head of the Met Police Counter Terrorism Command, said the verdict was an important one .
"Schedule 7 of the Terrorism Act 2000 is a vital tool in the fight against terrorism and we are committed to ensuring the power is used appropriately and proportionately, as it was in this case."
He said the Met had retained Rabbani's phone and laptop and was continuing its efforts to examine the contents.
Schedule 7 stops 'disproportionate'
Gareth Peirce, solicitor for Rabanni, at Birnberg Peirce, a firm which specialises in civil rights cases, described the law as a "mockery of the concept of due process".
"The idea that there is access to any protection is nonsensical. The only comfort in this outcome is that it exposes vividly how shoddy and shabby are the claims that Schedule 7 stops are carefully calibrated, proportionally applied measures that serve to protect national security," she said.
She said that Rabbani faced interference from the police with every journey he made, and faced a sword of Damocles with the threat of prosecution hanging over him at every police stop.
This story has been expanded and updated
Read more about terrorism, technology and the law
Supporters of the terrorist group Islamic State (Isis) are shunning sophisticated security and encryption software, including the Tails operating system and the Tor network, communications between jihadi sympathisers have revealed.
A 34-year-old Cardiff man, described by police as an "internet terrorist", has been jailed for eight years after developing an encrypted version of a pro-Islamic State blog and publishing training videos on encryption which could be used by terrorists.

Prime minister Theresa May presses internet companies to develop technical solutions that will allow terrorist material to be taken down from the internet in under two hours.
Read more on Privacy and data protection