Jerry Sliwowski - Fotolia
British Muslim considers appeal after court rules repeated terrorism stops are legal
Muzaffar Abdullah, a 37-year-old gas engineer who has been stopped and questioned by police at airports at least 10 times, is considering an appeal after being found guilty of wilful obstruction for refusing to answer questions under controversial terrorism legislation. He received a conditional discharge.
A court has ruled that police were not acting unlawfully by repeatedly stopping and questioning a 37-year-old British Muslim, under controversial terrorism legislation that allows counter-terrorism officers to question people and download the content of their phones and computer without any suspicion of wrongdoing.
Muzaffar Abdullah, was given a conditional discharge and ordered to pay £500 costs at Westminster magistrates' court in London, after being found guilty of wilful obstruction and refusing to answer questions at Heathrow Airport in March 2018.
His defence team argued that police should have known from records of previous stops that he had no connection with terrorism.
The case is the latest test of Schedule 7 of the Terrorism Act, which allows police and immigration officers to stop, question and detain people, even when they have no reason for suspicion, in order to determine whether they are involved in the "commission, preparation or instigation of acts of terrorism".
It comes just weeks after the Court of Appeal ruled against Muhammad Rabbani, director of the human rights group Cage, after he argued that he should not be required to hand over the passwords to his laptop and mobile, which contained legally privileged information. Rabbani was described by the judge as a person of good character.
Abdullah was arrested after returning to the UK from Egypt, where he was looking after his wife, who had recently given birth to a disabled child. He was accompanied by his three young children, who were separated from him while police questioned him.
Speaking after the verdict, Abdullah said the court's decision sent out a clear message that police can use terrorism laws to repeatedly stop and question the same people an indefinite number of times without having grounds for suspicion. The law was used in a discriminatory way against Muslims and people of colour, he said.
"From my own experience, it seems you are not allowed to travel where you want to, like any other person," he said. "If you are a particular religion or a particular colour, you will be stopped and the other people on the plane will be let go. So it is definitely discrimination by the system."
Mark Summers, QC, for the defence told the court during a half day hearing on 22 June, that the police had no lawful basis for stopping Abdullah. They had gathered information about him during repeated earlier stops, which should have demonstrated that Abdullah had no connection with terrorism, he said
In footage played in court, Abdullah was heard telling an official that he felt the Schedule 7 system was "institutionally racist" following a police stop at Heathrow Airport's Terminal 3 in 2014.
"You are stopping me as a Muslim and you are saying, here you go Mr Abdullah, we are stopping you under the Counter-Terrorism Act," he said. "You are singling me out. No one else got stopped – the whole plane went through."
The official, who agreed that Abdullah had been singled out, suggested he could try to remove him from the system so that he would not be stopped in future, "but could not promise anything".
Abdullah was 'lawfully stopped' in Heathrow
The chief magistrate, Emma Arbuthnot, ruled yesterday that Abdullah had been lawfully stopped for questioning by counter-terrorism police at Heathrow Airport in March this year, despite being stopped on multiple previous occasions.
"It was for a lawful purpose," she said. "We heard that it was a planned stop and although Mr Abdullah had been stopped before, this did not make it unlawful."
In an oral judgment, Arbuthnot said Abdullah had arrived at Heathrow with three of his children, aged 12, six and three, after a five-hour flight from Egypt.
Counter-terrorism police were waiting at the immigration desk, where they "received information" that led them to make a planned stop of Abdullah.
"The finding I make is that Mr Abdullah had a long flight with three children," said Arbuthnot. "He arrived at the immigration desk in a very agitated state and I find he was rude and unhelpful to [the immigration officer]."
The judge said Abdullah had been stopped numerous times previously and knew he would be stopped again by officers who were waiting behind the immigration desks.
The immigration officer described Abdullah's body language as "quite intimidating", and a struggle ensued when he refused to answer questions from a counter-terrorism officer, said Arbuthnot.
Abdullah was handcuffed and forced to the ground by uniformed and plain-clothes officers after he walked away from the counter-terrorism police and refused to move away from a second immigration desk.
"It was not surprising the children were upset," said Arbuthnot.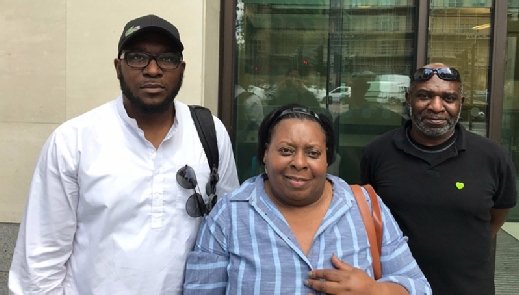 The judge rejected arguments by Mark Summers QC, representing Abdullah, that police had failed to follow proper procedures by failing to give Abdullah a Schedule 7 leaflet to explain his rights and legal obligation to answer questions.
She accepted the evidence from one police officer, who she described as a reliable witness, that counter-terrorism police had tried to hand an S7 leaflet to Abdullah but he had refused to accept it.
"There was no time for the defendant to absorb what the leaflet said, but although that was the case, he had been stopped many times before," said Arbuthnot. "He had copies of the leaflet [from previous stops] and was aware of the content."
The judge said that in mitigation, Abdullah had had a long journey with three young children and was fed up with being stopped by police.
Summers said he had intended to apply for an absolute discharge for Abdullah, but accepted the judge's verdict.
He asked the judge to take into account the fact that Abdullah was agitated because he had been arrested in front of his children, had been stopped many times before and had always complied scrupulously – even when annoyed – with police requests, and to consider the serious implications of a conviction under the Terrorism Act.
The court had heard on 22nd June, that Abdullah, was concerned that police had separated him from his children when they questioned him, and were unable to provide any information, other that they were being looked after. Summers said, "The issue of the children, as far as Mr Abdullah was concerned, was a significant part of his reaction."
Speaking after the hearing, Abdullah said that the courts needed to hear more challenges to Schedule 7, which is used disproportionately against Muslims . "A community is being outcast from the masses of people and subjugated to different laws," he said.
Muhammad Rabbani, international director of human rights organisation Cage, said Abdullah was an innocent father who could not bear the thought of being separated from his children. "He was treated as a suspect whilst under no suspicion".
"Lawyers have described Schedule 7 powers as being 'Kafkaesque'," he said. "They are intrusive, coercive and an affront to the norms of justice and due process. They must be challenged before more innocent, law-abiding citizens are put through the trauma of being treated as criminals."
Have you been affected by Schedule 7?
Contact the Computer Weekly team in confidence, using Signal and WhatsApp secure messaging services.
Contact Gamil Jassin on Signal or WhatsApp: 07867 005849
Contact William Goodwin on Signal or WhatsApp: 07931 494048
Direct message on Twitter: @WilliamRT
Email: [email protected]
Read more on Privacy and data protection