Aston Martin F1
CIO interview: Clare Lansley, CIO, Aston Martin Formula One
A rare female CIO in a male-dominated sport, Lansley discusses how digital transformation is all a part of helping the team to move further up the F1 grid
Clare Lansley, CIO at Aston Martin Cognizant Formula One, reflects on the role of the modern IT leader and says she's lucky enough to be in her dream job: "I've been an F1 fan all my life, courtesy of my parents. I was indoctrinated at an early age."
While she's a motor racing enthusiast, it's not just the sporting environment of the role that appeals. Lansley, who joined Aston Martin F1 in July 2022, also enjoys the fast-paced nature of the industry. As someone who's already worked in senior IT positions for Jaguar Land Rover and McLaren, the characteristics of the sector match her own working style.
"I love the fact that it's dynamic and that you need to keep an open mind because ideas can come from anywhere," she says.
"It doesn't matter whether the ideas come from a newly appointed graduate all the way up to the CEO. The whole concept of collaboration – because you're all pulling together for a common goal – really appeals."
Success on the track is reliant on a combination of people and systems off it. Lansley says that inherent sense of connectedness – allied to her love for the sport – made taking the opportunity to lead technology at Aston Martin F1 an easy decision.
"Quite frankly, when you work in corporates, they can be siloed," she says. "There's a hierarchy, they're slow to transform, and I wanted to get back into something that is pacier – somewhere you can genuinely affect change quickly."
Leaving the starting grid
As CIO at Aston Martin F1, Lansley reports to the group chief commercial officer and manages an internal IT team of 40 people. After six months in the role, she's beginning to enact her programme for digital transformation.
"My focus right now is getting embedded within the team and getting things set up for success," she says. "I'm not doing much globetrotting. But moving forwards, I want to get out to races, so that I can understand the duress our kit is going through and how can we make our processes slicker at the track."
"I'm not always in the marketing suite. I like to be down in the garage because that's what I'm responsible for. The engineers are at their desks because that's where they add value, so I need to be going to their place of work, interacting with them"

Clare Lansley, Aston Martin Cognizant F1
Lansley isn't your traditional CIO – and in more ways than one. She acknowledges she's a woman in what's commonly perceived to be a man's game. As well as turning that perception on its head, Lansley wants to enact a step change in IT leadership style. Rather than being stuck in the datacentre, she wants to spend more time engaging with the business.
"Rest assured, I'm not always in the marketing suite," she says. "I like to be down in the garage because that's what I'm responsible for. The engineers are at their desks because that's where they add value, so I need to be going to their place of work, interacting with them. And I think that's a very different approach to perhaps what's happened previously in F1."
While Lansley has held senior management positions in the motor industry before, this is her first CIO role. She recognised from the outset that this was the kind of IT leadership opportunity she craved – especially given Aston Martin F1's long-term ambitions and the role that technology is expected to play in that journey.
"When I came in for an interview, I began to understand the growth and what needs to happen with technology to transform it and use it as an enabler for the broader team. Obviously, everything's to do with tech in this industry – from designing the car to starting the car – so you've got a huge journey to go on," she says.
"The amount of transformation that needs to happen to make this a championship-winning team is really appealing. And given that I've got a delivery background, doing the planning and driving the agenda to make sure tech-led transformation happens and gets executed at the right time is a great combination."
Moving up the rankings
Aston Martin F1's direction of travel changed in January 2020, when billionaire Lawrence Stroll invested £182m in the motor company. The following year, the Racing Point F1 team was rebranded as Aston Martin F1.
An ambition was established for the team to be competing for podiums in the sport within five years. Last year, the team finished seventh in the constructors' championship. Lansley says the journey towards long-term success will continue at pace during 2023.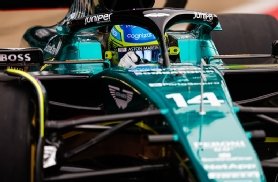 "There's been a lot of learning already," she says. "There's obviously been a fair amount of investment since Lawrence bought the team. A lot of new talent has been acquired and there's been a fair amount of process change internally. But time is totally of the essence in this industry."
Lansley says there's no hiding from the requirement to deliver great results quickly. "It's demanding," she says. "As well as making sure the basics are in place – so that means the reliability and the performance, which is a given – my day job is to transform faster and innovate smarter."
As part of that process, Lansley is seeking out digital innovations – either internally or from trusted partners – that can help her team move up the grid. "We're looking for a competitive edge," she says.
"We need to harness the power of data. We need to leverage technology to give us an edge on the circuit, whether that's from a simulation and design perspective or in terms of establishing what trends the data is showing us. It's all about anticipating the future based on the data that we've already got."
Overcoming obstacles
Lansley's technology ambitions are shaped as much by the rules and regulations of the sport as they are by the people leading the team. Her strategy is closely related to the requirements of the FIA cost cap, which limits the amount teams can spend on cars. Dealing with these regulations means considering carefully how the team's IT budget is invested.
"We're asking questions like, 'Can we do some smarter spending?' From an IT perspective, we're asking, 'Can we rationalise?' You're always trying to make sure your legacy estate is minimal and tidy. And because applications and tools date so quickly, we're asking, 'Are we giving the best value to our business partner?'"
Read more about tech in Formula One
As well as ensuring existing systems are cost-effective and efficient, Lansley's team is also exploring how it can take advantage of data analytics and artificial intelligence (AI). She says AI can help the team to analyse images, whether that's from the wind tunnel or the track, and they can use data to make smarter predictions about car performance.
"There's some seriously hard-core tech available, which means you have to have some high-level talent to use and consume it," she says. "But the data it gives you means you can leapfrog some of your test and development processes significantly."
Aston Martin F1 creates massive amounts of information. Lansley estimates her team manages about 400TB (terabytes) of data. Changes outside the sport bring further complications. Russia's invasion of Ukraine meant the country was dropped from the race schedule. However, Russia might be back on the race map one day. The IT team would then need to make historic race data – such as timings and weather conditions – available at pace.
"A big challenge of mine is that we've got all this data. I need to ask, 'Do we need it and, if so, where do I put it?'," she says. "Managing data to make it available quickly is key. But we've also got to manage the cost. As I mentioned before, the cost cap is driving a huge amount of choices from a technical perspective."
Delivering great performance
AI is also helping the company to ensure its IT operations are as effective as possible. Lansley is using Juniper's Mist AI platform, which uses a combination of AI, machine learning and data science to optimise user experiences and simplify operations across the network.
She says the technology's self-heal properties are particularly important. Mist AI, for example, will try to heal a wireless access point that's struggling. If it can't, the platform sends an alert to IT. When the team swaps the failing device, Mist AI automatically pushes the configuration for the old network straight to the new device.
"Mist is using AI to help transform how we support infrastructure," she says, before adding that automation means her talented staff can spend more time making a difference to the team rather than focusing on operational concerns. "It means I'm hands-off and my people can concentrate on value-adding activities."
"We're not an IT team that sits downstairs. That model of working is long gone. We want to be considered an integral partner of the team because we make great stuff happen"

Clare Lansley, Aston Martin Cognizant F1
Lansley says F1 has unique requirements around reliability and performance. Any technology has to deliver great results quickly and consistently. She says the industry-leading features that Mist AI offers provide the business with the innovation it craves and the operational insight it needs.
"That's what we're looking to capitalise on," she says. "The fact that the platform gives me access to everything on one dashboard – and I can go straight down to it, it can self-heal and I can investigate issues remotely – means I don't have to send somebody off down a corridor to go and check a device."
Taking the lead
Lansley says the capacity to give her staff more time to make game-changing decisions for the business is her number one priority going forwards. Her aim is to empower her team, improve efficiency and embrace innovation.
"We need to be pushing boundaries. You've got to have a motivated team and they've got to go after something good. We've got some really sexy software and fantastic concepts going around the business. Being able to partner with our business colleagues to unlock the power of technology is where we want to be," she says.
"We want to be sat next to the aerodynamicists helping them. We're not an IT team that sits downstairs. That model of working is long gone. We want to be considered an integral partner of the team because we make great stuff happen."