iStock
Select committees to continue with Zoom virtual meetings until September
Although MPs have returned to Parliament, House of Commons select committees will continue with virtual meetings until 17 September
House of Commons select committees will continue to hold meetings via Zoom until 17 September, the Speaker, Lindsay Hoyle, has announced.
Earlier this month, the government passed a motion to prevent the continuation of remote voting in Parliament, calling on MPs to return to the House physically.
However, MPs sitting on select committees will not have to return to Parliament for meetings until September.
Hoyle said he wanted to give members "certainty" that they can continue committee business in the "most effective way possible" in the current circumstances. Originally, the government had planned to stop virtual select committee meetings by 30 June.
Bernard Jenkin, chairman of the influential Liaison Committee, said he wanted virtual meetings to continue well beyond 30 June "until at least summer recess". He said continuing with remote hearings would ensure all MPs could participate "on a fair and equal basis during the current pandemic".
Hoyle said he was "very sympathetic" to the idea, was keen that the select committees continue to provide scrutiny in a way that allows members and witnesses to participate, and felt it would be best to extend the deadline for remote meetings until 17 September, when the House breaks up for political conference recess.
MPs were told in May that they would have to return to Parliament by 2 June. However, this was met with criticism from all sides of the House, and led to a vote to reinstate a physical Parliament. The vote was carried, despite a rebellion by 10 Tory MPs, and the decision continues to be criticised.
Select committees have been holding Zoom meetings since 24 March, the day after the UK went into lockdown, while Parliament has held Prime Minister's Questions, urgent questions and statements remotely via videoconferencing since the House of Commons returned on 21 April.
This happened after calls from more than 150 MPs to allow Parliament to lead by example in the coronavirus crisis and ensure social distancing. Hoyle then responded by asking the Parliamentary Digital Service for an emergency plan to introduce a parliamentary online environment, involving actors such as the BBC.
Read more about virtual meetings and government
Content Continues Below

Download this free guide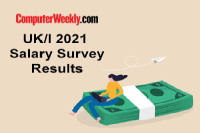 2021 UKI Salary Survey - Salary Infographic
We take a look at our 2021 Salary Survey results from over 300 respondents who work in the UKI IT sector. We will be breaking down which job functions get paid what, what areas of IT companies will be investing in in 2021, the current diversity landscape residing in the UK tech sector and how the pandemic has effected IT staff.