Delphotostock - Fotolia
UK-Ireland frictionless border tech far from ready, EU Select Committee finds
The government has promised a frictionless UK-Ireland border, but currently technology only has the capacity to mitigate rather than eliminate friction, and the government's technical advisory group on the border seems to be on hiatus
The government's technical advisory group on the UK-Ireland border seems to have been inactive since the revised Protocol on Ireland/Northern Ireland was agreed, a parliamentary report has found.
The House of Lords EU Select Committee report on the protocol said that although technology could have a very positive impact on making border operations seamless, there is a long way to go before that is the case.
"We note the potential for technology to reduce the friction arising from customs checks required under the protocol," the report said.
But the "smart" border, which the government has said will be the "best, smartest and most efficient border in the world", will not be ready until at least 2025, according to Michael Gove, chancellor of the Duchy of Lancaster.
"Technological solutions, important as they are, currently only have the capacity to mitigate rather than to eliminate friction arising from customs checks and processes," said the report.
Pre-Brexit, the government set up a technical advisory group on alternative arrangements for the border. However, witnesses interviewed by the committee said there has been no update on its work since September 2019 and it is unclear whether the group had met since then.
The report said the committee "regrets that the government's technical advisory group on alternative arrangements appears to have gone into abeyance since the revised protocol was agreed".
It added: "We invite the government to provide an update on the work of the group, and in particular on the potential for technological solutions to reduce the friction arising from customs checks under the protocol."
In March 2018, the Northern Ireland Affairs Committee found there was no evidence that technology could solve the problems at the UK-Ireland border, despite the government being confident that technology could ensure a "non-visible" UK-Ireland border.
At the time, the committee said it had "no visibility of any technical solutions, anywhere in the world, beyond the aspirational, that would remove the need for physical infrastructure at the border", despite the government promising a frictionless border.
In May 2020, the European Commission called on the UK to be ready to implement IT systems at the border by today (1 June 2020).
Content Continues Below

Download this free guide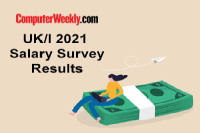 2021 UKI Salary Survey - Pandemic Infographic
We take a look at our 2021 Salary Survey results from over 300 respondents who work in the UKI IT sector. We will be breaking down which job functions get paid what, what areas of IT companies will be investing in in 2021, the current diversity landscape residing in the UK tech sector and how the pandemic has effected IT staff.
Read more on IT for government and public sector