Ðиколай ÐаÑаев - st
Qualcomm teams with Radisys to hasten 5G deployment process
Chip maker Qualcomm inks 5G technology partnership with telecoms software provider Radisys for faster time to market and faster time to revenue
Bidding to enable 5G NR infrastructure customers to accelerate their time to production, chip technology giant Qualcomm has entered into a technology partnership with open telecom software firm Radisys.
Fundamentally, Radisys and Qualcomm Technologies are aiming to allow service providers to accelerate their 5G deployments for various vertical industries and time-to-revenue. The collaboration will see Radisys play a key role in optimising L2-L3 5G NR software on the Qualcomm FSM 5G platform (FSM100xx) and the two firms will work to deliver a pre-integrated, pre-tested and pre-validated 5G platform for both mmWave and sub-6GHz bands.
Qualcomm believes that integrating its 5G platform with Radisys's 5G software will fuel growth of 5G NR small cells, supporting communications service providers in their mission to add 5G coverage and capacity and support new use cases for high-throughput applications, including immersive augmented and virtual reality and enhanced mobile broadband.
The companies are also aiming to support new use cases for enterprises to deploy their own private 5G networks in areas such as mining, oil rigs or campus-wide locations, for stadium owners to add 5G coverage and capacity, and for service providers to enhance indoor coverage and support deep coverage in highly urban environments.
Qualcomm was in no way playing down the potential of the partnership. "This engagement is an important milestone for the industry," claimed Rahul Patel, senior vice-president and general manager for connectivity and networking. "We expect it to result in critical 5G NR small cell infrastructure, benefiting 5G subscribers around the globe."
Neeraj Patel, senior vice-president and general manager for software and services at Radisys, added that the partnership would enable "connectivity like we've never seen before. Our solution will equate to faster innovation, faster time to market and faster time to revenue."
Content Continues Below

Download this free guide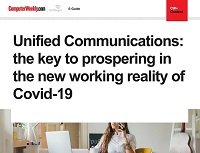 Unified Communications: the key to prospering in the new working reality of Covid-19
The coronavirus is changing everything about how people work, and will do so permanently. It added that even though the working world was experiencing unprecedented uncertainty, there were two things that should be borne in mind: the virus will pass, and at the other side of the pandemic, the world of work will look very different.
Read more on Telecoms networks and broadband communications