YakobchukOlena - stock.adobe.com
How digital indoor systems can bolster ASEAN's 5G networks
Digital indoor systems, already being used at airports and subway systems, will help telcos monetise new digital services on 5G networks
Digital technologies are revolutionising consumer interactions and the way enterprises compete. In retail, for example, mobile payments and e-commerce have the potential to reduce the use of cash and re-purpose traditional retail spaces.
With digital solutions and services contributing up to 10% of GDP among ASEAN economies, it is certain that technology is increasingly transforming industries and improving digital economic efficiency.
Realising this, governments in ASEAN are spurring growth through digitisation, national IT infrastructure projects, Industry 4.0 and innovation. Understanding and removing bottlenecks, as well as seeking out smart solutions, have become key focus areas.
For example, in Singapore, the internet of things (IoT), 5G, sensor networks and the nationwide broadband network will enable enterprises to leverage high-speed networks and real-time communications.
High-accuracy location positioning technologies is another area the Singapore government is looking into, given the city-state's high population density that requires robust indoor connectivity.
Similarly, Malaysia's Industry4WRD national policy is positioning it as strategic partner for smart manufacturing work. The country has also earmarked RM$3bn for its Industry Digitalisation Transformation Fund to speed up adoption of automation, robotics and artificial intelligence (AI).
Not surprisingly, many transformative technologies under such government-driven initiatives are deployed indoors, such as homes, offices, shopping centres and even manufacturing plants. Today, over 80% of network traffic originates from indoor locations, and this is set to increase to 96% with the onset of 5G.
Although indoor connectivity can help to improve user experience and enable new business models, the consumer experience varies across ASEAN. This is because of limitations of distributed antenna systems (DAS), particularly in supporting location-based services (LBS).
With DAS, pairing applications with LBS is not easy, and has always been on a best effort basis. The digital indoor system (DIS), on the other hand, is more effective in pairing LBS with big data and even AI-powered applications.
In retail, this pairing can support precision marketing services, which can dramatically increase retail sales by using real-time data about consumers to increase sales conversion rates.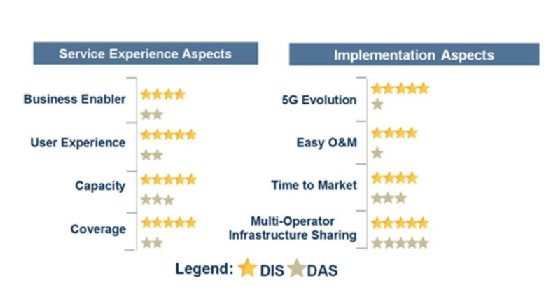 The key to a successful indoor system implementation is the collection of relevant data that can make a difference to people's lives. And as custodians of DIS data, telcos are well-poised to deliver smart services that address varying needs, particularly in dense locations such as stadiums, airports and transportation hubs.
Today, DIS is already being used on some parts of Hong Kong's Mass Transit Railway, as well as in airports in Indonesia, Singapore and the Philippines. Airport DIS implementations in the region typically emulate that of the new Istanbul airport – the largest DIS deployment in the world.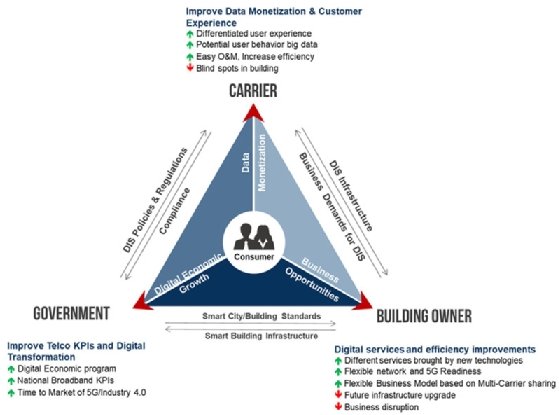 For governments, DIS, with its higher spectrum efficiency as compared to DAS and its ability to operate at 5G frequency bands, can help to drive the digital economy.
Local governments need to plan for indoor solutions, which are essential for 5G implementation plans, as well as national IT roadmaps such as Malaysia's fiberisation and connectivity plan (NFCP).
In November 2018, Malaysia saw the first implementation of multi-operator, multi-technology DIS at Stesen Sentral Kuala Lumpur, with all four major telcos on board.
Seeing the benefits of the deployment, the chairman of the Malaysian Communications and Multimedia Commission (MCMC) encouraged the expansion of DIS to hospitals and Malaysian government offices.
DIS looks set to play a vital role as key infrastructure, for now and into the future.
Malaysia's use of DIS comes after the technology has achieved about 80% penetration for new indoor system deployments in China, while telcos in the Philippines have prioritised DIS as the standard for building digital indoor architecture infrastructure.
To be on par regionally, the Malaysian Technical Standards Forum needs to consider DIS as a critical component of its guidelines for implementing 5G-oriented indoor architecture.
With the rise of smart cities across the region, DIS can be considered as part of construction standards to ensure the benefits of intelligent buildings can be realised. Regulators should also drive standards and policy to spur adoption of DIS.
Specifically in Malaysia, government agencies need to consider amending the uniform building bylaws to ensure readiness of digital indoor architecture infrastructure in new buildings. A similar policy is already in place in Singapore under the code of practice for info-communication facilities in buildings.
Regulators also need to work towards reducing DIS deployment challenges. These include site access and infrastructure sharing, as well as compatibility of DIS across industries and countries. Also, as indoor sites are no longer solely owned by telcos but by neutral parties and tower companies, regulators need to bring guidelines and regulations up to speed through industry collaboration.
Read more about 5G in ASEAN
For telcos, the incentive to consider DIS is driven by their need to maintain profitability and even more so with the upcoming 5G technology that requires more sites.
Telcos in the region have announced 5G trials, but it will be a while before 5G reaches mass-market adoption. That said, planning has to start now as longer-term investment horizons for indoor sites and site acquisition and management difficulties will drive adoption of DIS.
From a business perspective, DIS offers a smart and efficient solution over DAS, creating new monetisation opportunities while reducing total cost of ownership (TCO). Industry case studies have shown that telcos can look forward to reducing ROI (return on investment) to less than four years with DIS.
For building owners, DIS lets them monetise new digital services and improve operational efficiency. Today, broadband is considered a utility service, and buildings a hotspot for services concentration. Recent surveys show a high correlation between internet connectivity and rental decisions, lease terms and pricing.
Within this context, joint investments in DIS or rent-free spaces such as rooftops can be seen as a small price to pay to ensure future monetisation of digital services and rental income. Improved indoor customer experience is always a plus, both for consumer retail and enterprise segment spaces.
DIS looks set to play a vital role as key infrastructure, now and into the future. By enabling direct linkages and contribution to the digital economy, governments and regulators will be able to make significant improvements to people's lives. Through new opportunities for monetisation, telcos will be able to stay innovative, relevant and 5G ready.
Quah Mei Lee is an industry principal analyst with Frost & Sullivan's APAC information and communication technologies practice
Read more on Telecoms networks and broadband communications