NicoElNino - stock.adobe.com
Qualcomm and ZTE claim 5G landmark with voice-over-NR call
Successful 5G VoNR calls sees tech companies declare an important step towards the commercial use of 5G voice experiences
Qualcomm Technologies and device maker ZTE have revealed a successful 5G-enabled voice over new radio (VoNR) call.
The two companies see 5G voice services as fundamental for mobile operators, and regard VoNR calls as an important step in the global mobile industry's evolution from non-standalone to standalone, as it will enable operators to deliver high-quality voice services without having to rely on VoLTE (voice over LTE) or an LTE anchor.
The VoNR call was undertaken in December 2019 in compliance with 3GPP Release 15 specifications over the 2.5GHz spectrum band (n41), using a ZTE 5G NR base station and a 5G smartphone form factor test device powered by a Qualcomm Snapdragon 5G modem-RF System.
"This achievement with ZTE allows us to further support our goal of unlocking 5G's ability to power worldwide connectivity capabilities," said Durga Malladi, senior vice-president and general manager, 4G/5G, at Qualcomm Technologies. "We are committed to continuing the progression of 5G so we can, in turn, help drive innovation and economies worldwide."
Bai Yanmin, general manager of RAN products at ZTE, added: "As a long-term partner of ZTE, Qualcomm Technologies is working with us to promote technical verification and commercialisation in the 5G development process. This successful 5G VoNR call has taken an important step towards the commercial use of seamless native 5G voice experience, and will also strongly support the construction of 5G SA, so as to offer 5G to more service providers, enterprise users and consumers."
Previous collaborations between the two companies produced the world's first end-to-end 5G NR interoperability data testing (IoDT) system demonstrating a data connection based on 3GPP R15 standard, in China in November 2017. The pair also completed a live demonstration of 5G network services based on an end-to-end sub-6GHz commercial system in the same country in February 2019.
Content Continues Below

Download this free guide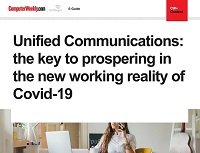 Unified Communications: the key to prospering in the new working reality of Covid-19
The coronavirus is changing everything about how people work, and will do so permanently. It added that even though the working world was experiencing unprecedented uncertainty, there were two things that should be borne in mind: the virus will pass, and at the other side of the pandemic, the world of work will look very different.