Ðиколай ÐаÑаев - st
Qualcomm eyes up slice of $13.2tn 5G sales enablement market
At the end of its financial year, mobile chip giant Qualcomm sets its sights firmly on profiting from a 5G economy which it believes will generate more than $10tn in sales enablement by 2035
Finishing its financial 2019 on a high note, mobile chip giant Qualcomm has now set its sights firmly on plundering the spoils of a 5G economy, which it believes will generate more than $10tn in sales enablement by 2035.
For the fiscal year ended 30 September 2019, Qualcomm reported revenues of $24.3bn, up 7% annually, and turned round a fiscal 2018 net loss of $5bn to a profit of $4.4bn by the end of the 2019 year. Operating income for the year increased from $600m at the end of fiscal 2018 to $7.7bn a year later.
Commenting on the year, CEO Steve Mollenkopf said that firm ended the fiscal 2019 year having successfully executed on strategic priorities, in particular helping to drive the global 5G commercialisation.
"[We completed] a number of important anchor licence agreements, executing well across our product roadmap. Our technology and inventions leave us extremely well-positioned as 5G accelerates in 2020," said Mollenkopf .
Qualcomm commissioned research from analyst IHS Marki, which predicted that 5G will generate $13.2tn in sales enablement, defined as global sales activity that 5G will enable across the 16 International Standard Industrial Classification sectors. This represents a $1tn in 5G sales enablement by 2035 over the previous forecast released in 2017.
IHS Markit attributed the increase in large part due to the early completion of the initial 5G standard and the subsequent accelerated roll-out. There are now more than 30 live 5G networks and more than 40 OEMs launching 5G-enabled devices, making it the fastest ever roll-out of a cellular technology generation.
IHS Markit also believes that by 2035 the global 5G value chain will support 22.3 million jobs – 3.4 times as many jobs as a similar level of economic output currently supports.
Additionally, this value chain is said to be on the verge of investing an average of $235bn annually to continue to expand and strengthen the 5G technology base. That would be nearly 80% of the total US federal, state and local government spending on transportation infrastructure in 2017.
"Like electricity and the steam engine before it, IHS Markit views 5G as a catalyst that will thrust mobile technology into the exclusive realm of general-purpose technology," said Bob Flanagan, economics consulting director of IHS Markit, commenting on the report.
"The profound effects arising from these innovations range widely, from the positive impacts for human and machine productivity, to ultimately elevating the living standards for people around the world."
Content Continues Below

Download this free guide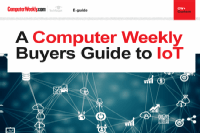 A Computer Weekly Buyers Guide to IoT
In these uncertain times, making solid predictions for the year ahead looks like a definition of a mug's game. While this has been the fuel for the fire for the boom in applications such as video conferencing as used to support remote working, the same really can be said for the internet of things (IoT). Download this E-Guide to find out what enterprises need to know about IoT.
Read more on Telecoms networks and broadband communications