Huawei: 5G growth will be maintained with or without US tech supply
Huawei dismisses US tech sabre-rattling and claims it will continue robust business growth in 5G with or without US suppliers
Whatever the US regulatory authorities throw at Huawei, it will still maintain its leadership position in 5G, the Chinese global tech giant's board director and president of the institute of strategic research, William Xu, has claimed.
Closing the company's Innovation Day and Huawei eco-Connect Europe in Paris after setting out the path company would take in removing the technical bottlenecks that could slow ubiquitous connectivity, Xu affirmed that Huawei would ride out any potential ban of the use of its products in US communications infrastructures, a situation more likely after US telecoms regulator the Federal Communications Commission (FCC) cited it as a risk to the US.
In a further example of foreign government pressure, the Reuters news agency reported German foreign minister Heiko Maas as saying that despite Germany not banning the use of technology from any specific suppliers in its 5G network, the country wanted to add a test of trustworthiness to its 5G tech procurement processes, which had, so far, been based mainly on technical criteria. Maas singled out Huawei for attention in this regard.
Reacting to questions about how the company would react as governments look to ratchet up the pressure, especially the US, Xu said that, despite everything, Huawei had experienced 24% annual growth and for that, he wanted to thank the company's customers and partners.
Xu said the company would remain open to collaboration for global companies, even those originating in the US. "Our principle is that we hope there can be open collaboration and gratitude towards US partners," he said. "We want to offer products and services across the world and we will stick to the principle of open collaboration and multi-vendor supply.
"If US companies can continue to supply Huawei with products and components, then we will still welcome them. If this is not possible, we will still maintain our robust business growth. In terms of 5G, we do not rely on any US tech and components and are still the leading vendor. Against these circumstances, we welcome collaboration with suppliers from around the world."
Read more about Huawei and 5G
Content Continues Below

Download this free guide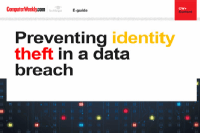 Preventing identity theft in a data breach
In this e-guide, we will explore the links between ransomware attacks, data breaches and identity theft. First, Nicholas Fearn investigates the phenomenon of the double extortion attack, and shares some insider advice on how to stop them, while we'll explore the top five ways data backups can protect against ransomware in the first place.