sarayut_sy - stock.adobe.com
Singapore kicks off first steps in 5G roll-out
Singapore's telco regulator will award 5G spectrum to mobile operators by the middle of next year, culminating in the deployment of two nationwide 5G networks by the end of 2022
Singapore's telco regulator is seeking proposals from mobile network operators to build the country's 5G infrastructure in an exercise that will lead to the deployment of two nationwide standalone networks.
Kicking off the call for proposal (CFP) process today, the Infocomm Media Development Authority (IMDA) said it expects to award the required 5G spectrum by the middle of next year, culminating in the roll-out of the new networks by the end of 2022.
The CFP comes on the heels of a public consultation exercise where the IMDA had proposed that mobile operators deploy standalone 5G networks, which offer more advanced capabilities, such as network slicing and ultra-low latency to support internet of things (IoT) applications.
These standalone networks, which can make use of the 3.5GHz spectrum, should cover at least half of Singapore by the end of 2022, "in view of deployment challenges and uncertainties in early 5G use cases", the IMDA said.
Some telcos had called for the IMDA to take non-standalone networks into consideration as most 5G applications are currently being developed based on non-standalone architecture.
To that, the IMDA said operators, with its approval, can still build non-standalone networks in the 3.5GHz band, in addition to standalone networks.
They can also use the 26GHz and 28GHz millimetre wave (mmWave) bands to provide fixed wireless access services to support localised deployments such as smart city applications, opening up the market for potentially two more telcos to run localised 5G networks.
A choice of deployments
However, with the roadmap for mmWave standalone network equipment still nascent, the IMDA will allow mobile operators to choose between standalone or non-standalone deployments in the mmWave band in the interim.
In allocating spectrum, the IMDA will take the "beauty contest" way – rather than an auction that could lead to a bidding war and drive up costs – of assigning spectrum to operators that can meet its policy objectives, which include achieving nationwide 5G coverage by the end of 2025, along with security and resilience requirements.
The base price of one 100MHz lot of 3.5GHz spectrum is set at S$55m – a sum derived from international and local benchmarks, as well as the IMDA's own "econometric assessment" of Singapore's mobile market. As for the mmWave spectrum, mobile operators will only pay the annual fee to cover the costs of managing spectrum.
To spur competition in a market with limited spectrum that will not be able to support more than two operators, at least in the initial years, the IMDA will require the two nationwide operators to provide wholesale services to rivals, including mobile virtual network operators (MVNOs).
Describing 5G as the backbone of Singapore's digital economy, Singapore's minister for communications and information S. Iswaran said the government has been fostering collaborations between companies to drive the development of 5G use cases.
Read more about 5G in APAC
For example, the IMDA is supporting efforts by Singtel and gaming technology unicorn Razer to test a 5G-enabled cloud gaming service, as well as a partnership between CapitaLand, TPG Telecom and NavInfo DataTech to develop last-mile mobility services for a research and development park in southwest Singapore.
"Our vision is for Singapore to be at the forefront of innovation and value creation enabled by secure and resilient 5G applications and services," Iswaran said at an industry event today. "We will do this by building a world-class 5G infrastructure, allocating spectrum on the basis of the overall value to our economy, and co-investing with industry to develop innovative 5G solutions and use cases."
Globally, Ericsson expects 5G coverage to reach at least 45% of the world's population by the end of 2024, thanks to the use of spectrum sharing technology that lets telcos deploy 5G and 4G services using the same spectrum.
Device and chipset makers have already laid the groundwork for 5G devices, with smartphones for the main spectrum bands expected to hit the market over the course of this year. This will drive the global number of 5G subscriptions to more than 10 million by the end of 2019.
Content Continues Below

Download this free guide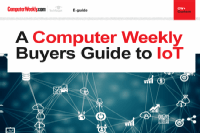 A Computer Weekly Buyers Guide to IoT
In these uncertain times, making solid predictions for the year ahead looks like a definition of a mug's game. While this has been the fuel for the fire for the boom in applications such as video conferencing as used to support remote working, the same really can be said for the internet of things (IoT). Download this E-Guide to find out what enterprises need to know about IoT.
Read more on Telecoms networks and broadband communications