UK leading the charge on the printer front
The latest figures from Context show that the UK is one of the strongest players across Western Europe when it comes to printer hardware unit shipment growth
Strong sales of printer hardware in the UK has helped offset weaker performances in other territories and help the product segment deliver year-on-year growth in the second quarter.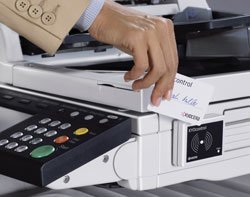 According to the latest market analysis from Context the UK saw unit shipments increase by 25% year-on-year for Q2, with the Netherlands the second strongest performer with a 14% annual improvement.
As a result of that performance the UK has overtaken France and is now the second largest printer hardware market in Western Europe and helped the region gain a 6% improvement on the second quarter in 2013.
Demand for multi-function laser as well as inkjet printers is driving the growth but the arrows are not all pointing upwards and the further you head East the bleaker the situation becomes.
"Unit shipments of printer hardware to Central and Eastern Europe continued to decline by 19% year-on-year in Q2 2014, with the majority of CEE countries registered a negative performance for the quarter", said Zivile Brazdziunaite, imaging market analyst at Context.
Russia, which is currently experiencing all sorts of trade issues as a result of the ongoing conflict in the Ukraine, is the largest market in the CCE region and saw its own shipments drop by 15%, compared to last year, with laser printers particularly hard hit.
Ukraine, which is being torn apart by a civil war that is made all the more serious by the involvement of Russia, had other things to worry about and saw printer hardware units drop by 44%.