Have your Christmas Presents vanished from your doorstep?
So far only one of the presents we have ordered on-line this year failed to arrive – more than one e-mails telling us of delivery slots arrived after the parcel. It was therefore only chance that some-one was in to collect. I did, however, enjoy the you tube video referenced in the BBC article on Amazon's attempts to cut down on parcel theft How long before Royal Mail uses tracker stamps for its premium rate services.

Download this free guide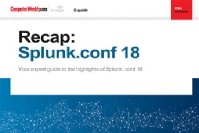 Splunk.conf 18: What you missed and what you need to know
Check out our coverage of Splunk.conf 2018, where we look into subjects such as security automation, data-driven pre-emptive maintenance and why diversity is so important when developing the technologies of the future.