Juniper Is Getting The Hang Of Acquisitions...
Had an excellent catch-up with Apstra, a company I've followed since day one, fascinated by its concept of "intent-based networking".
After all, my IT raison d'etre is to prove that stuff "does what it says on the tin" so here's a concept looking to deliver every IT guys pipe dream – albeit directed primarily at the Data Centre delivery world. The company was recently acquired by Juniper; now I have been somewhat less than enamoured of certain JNPR acquisitions over the years. One that shall remain nameless I recommended against the acquisition of was, nonetheless, acquired and then quietly end-of-lifed before it had barely been born. However, this time Juniper has got it – to use a technical term – spot on. As with all the trad networking companies, it is going through a partial reinvention phase and this is most definitely an excellent direction to reinvent in.
What is interesting from a vendor-owner perspective is that Apstra has always been staunchly multivendor from a support perspective, and its most recent announcement (adding support for VMware NSX-T 3.0 and Enterprise SONiC) shows that this focus is not, er, being defocused. Long may it continue. Naturally, the integration with Juniper's own switch and gateway solutions is also evolving, as IT moves from buying products to investing in "solutions".
All in all, it looks a great fit and a more than promising honeymoon period, so I'll be keeping a close watch on how Apstra continues to progress with a sugar daddy now supporting it (and vice-versa!).
Content Continues Below

Download this free guide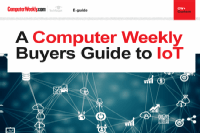 A Computer Weekly Buyers Guide to IoT
In these uncertain times, making solid predictions for the year ahead looks like a definition of a mug's game. While this has been the fuel for the fire for the boom in applications such as video conferencing as used to support remote working, the same really can be said for the internet of things (IoT). Download this E-Guide to find out what enterprises need to know about IoT.