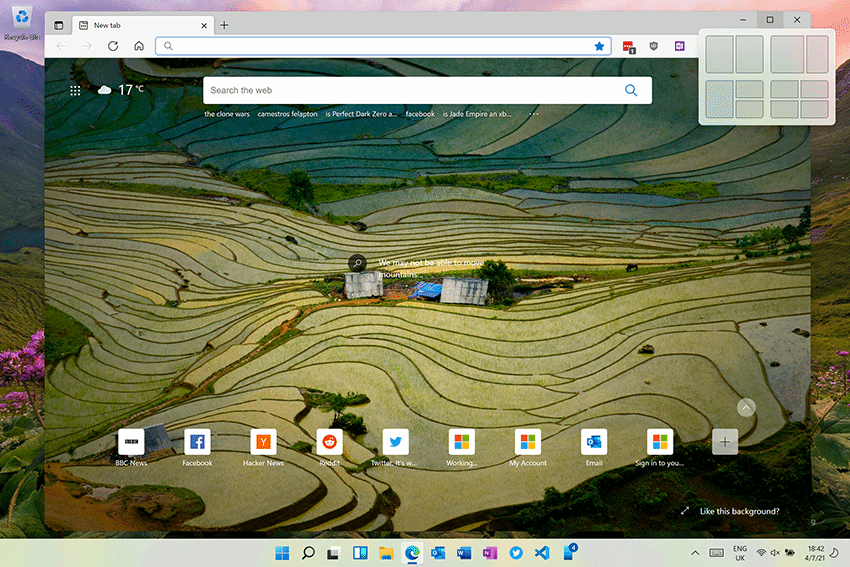 The Start menu is perhaps the most obvious change. Opening in the centre of the screen, it drops the Live Tiles of Windows 10 in favour of a separate new Widget pane. A split view shows pinned apps, along with a Recommended view that exposes recent documents and newly installed apps.
Even the windows are subtly different, now with curved corners (that match those on the screen of the Surface Laptop Go). This new look and feel, codenamed Sun Valley, takes Windows' Fluent design language and applies it across the entire operating system. It's a fresh lick of paint on a familiar house, where everything works the way it always used to, only now with some new tricks.
One of those new tricks comes when right clicking or rolling over the maximise button in any window. This opens the Snap Layouts tool, which uses the user's screen geometry to suggest a new layout for applications. It is a surprisingly useful tool, which lets people quickly pick and choose windows to construct a layout for their workflow. Those layouts are stored as Snap Groups that can be quickly brought back as and when there is a need to open an app to deal with a task.
Read the full Windows 11 test drive >>
View All Photo Stories