Wimbledon bunker tour: The IT behind the tennis championships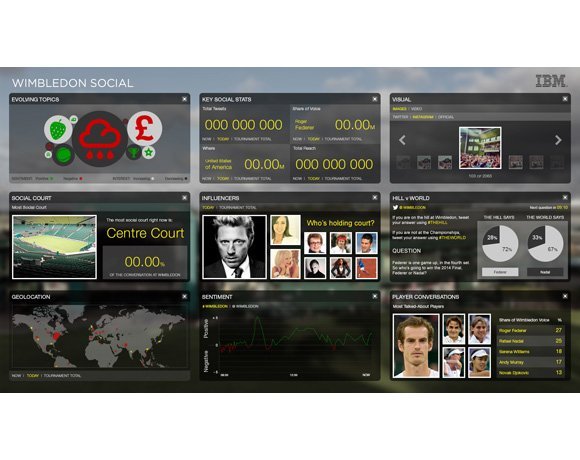 Along with smartphone applications, the social media command centre was another new initiative for IBM and Wimbledon this year.
By analysing social engagement with Wimbledon in real time, the club claims it will be able to understand key topics, recognise social influencers online and in turn update the Wimbledon.com website in-line with fans' interests.
"We continue to look for new ways to innovate and strengthen our leadership position in the sports industry, and one of the ways we will do this is by delivering content and information about the championships to fans in the way that they want to consume it, no matter where they are," said Mick Desmond, commercial director at AELTC.
"In 2013 we refreshed our brand," added Desmond. "We redesigned the website and moved away from the rigid infrastructure. While a lot of people were visiting the site, we wanted them to stay for longer."
Social Command Center is powered by IBM SoftLayer cloud technology. The platform will allow the Wimbledon content team to understand and respond to fans' needs in real time, by analysing social media conversations taking place during the fortnight. The content team will also be able to use this data to tailor the content that appears on the website.
This year the club will be introducing a new social media experience call The Hill versus The World, which intends to compare the social voice of people attending Wimbledon and sitting on the hallowed Henman Hill, to the rest of the world watching elsewhere.
The analytics will also be able to identify influencers on social media – at the time Computer Weekly visited the bunker, Federer was considered an influencer who spoke a lot on social media, as well as One Direction's Liam Payne, who is considered influential because of the millions of followers likely to retweet his content.
Last year, Wimbledon introduced social sentiment analysis, to enable fans to gauge how popular Andy Murray is in different parts of the UK.
View All Photo Stories