IT at the WWF Living Planet Centre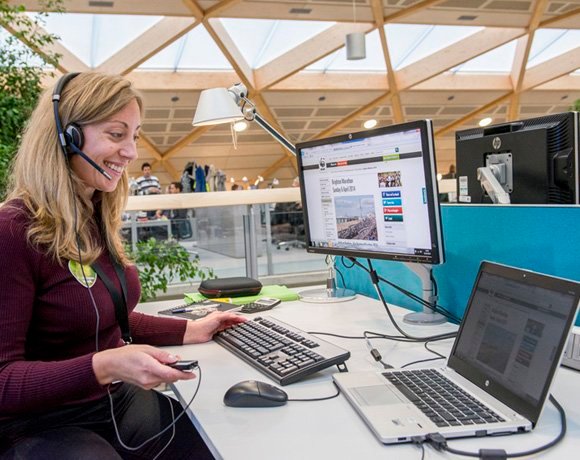 Source:
© Richard Stonehouse
WWF believes technology can, and will, play a vital role in reducing carbon emissions and addressing climate change.
CIO David Southern said the new building, which houses up to 340 WWF employees, enables connected smart working through the implementation of many different technologies. The computers and laptops used in the previous WWF headquarters were coming to the end of their lifespan, so the organisation provided new laptops to its employees when it moved to the Living Planet Centre in Woking.
The organisation partnered with Cisco to roll out the technology necessary to make the Living Planet Centre a flexible working environment. "Cisco is very much in the field of sustainable technology, and shares our values," said Southern.
There were 80 corporate laptops used in the old office, as well as three corporate tablets used primarily for social media and testing mobile websites and applications. Due to the new IT infrastructure, the organisation has been able to implement bring your own device (BYOD) in a way it was unable to do in its old premises.
"We embrace BYOD because it helps reduce the amount of hardware we own and manage," said Southern
As well as BYOD capabilities, the centre has strong wireless networks, video-conferencing, and all staff hotdesk. In fact, no one in the organisation has a fixed desk. There are 180 desks for 340 staff and the idea is to make the office space as fluid and flexible as possible. Every employee is given a smart box for their possessions, which they store in a locker.
Cisco's Jabber software is used by employees to tell the rest of the team when they are at their desks, at a meeting, and which area of the building they are using for the day. The software's primary use is telephony as there are no fixed desktop phones, and employees use Bluetooth headsets to connect to their laptop computers.
Thanks to its partnership with Cisco, the Living Planet Centre received donated refurbished networking hardware previously used during the 2012 Olympics. The networking giant also provided heavy discounts on solutions, including servers.
The centre uses wireless as its primary connection – it has three main user networks: guest, BYOD, and a standard staff network. But one of the challenges when installing Wi-Fi was an architectural one. The centre has 74 wireless access points which had to be installed beneath the floor because fixing these to walls and ceilings would spoil the aesthetic appeal of the building. Dimension Data – an implementation partner recommended by Cisco – was able to help WWF implement the technology under the building.
View All Photo Stories