IT Security Purchasing Intentions 2013 - Europe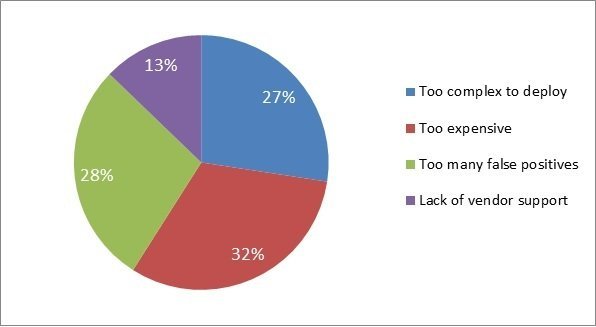 IT security professionals have identified the main barriers in implementing Data Leakage Prevention [DLP]. A survey by Computer Weekly/TechTarget shows that the number one barrier for IT security professionals is its high cost (32%), followed by concerns over too many false positives (28%), complexity in deployment (27%) and lack of vendor support (13%).
"The research data is peppered with concerns about expense, complexity and issues related to integration and end user disruption. Any conversation with a CIO that touches on these topics isn't going to get very far unless it is backed up with a compelling business argument," said Andrew Rose, principal analyst for security and risk at Forrester Research.
"That is the job of the security and risk professional now -- to step away from the console and the command line, and craft a business case that drives our organisations to do the right thing," he said.
Rose also notes that when DLP is deployed in a comprehensive manner, it will require constant maintenance to update rules to accommodate new projects, clients and designs, etc. "Bypassing this expense will ultimately reduce the value of the tool within a short period," he said.
Setting up user profiles can be a thorny issue in implementing DLP, said Adrian Wright, vice president of research for ISSA-UK. Introducing a restrictive scheme that blocks a user's actions based on rank or job role will invariably give rise to some emotional resistance, while false positives can block user's actions unnecessarily, he said.
Download our complete security survey results here.
View All Photo Stories