The challenge of our era - digital transformation at Allianz
The insurance firm wants to become "digital by default" and its CIO explains the vital role DevOps and cloud play in its change programme
Allianz was founded 127 years ago and has seen huge transformations across business and society in that time. We have adapted to each wave successfully to become one of the largest companies in the world.
The challenge of our current era is digital transformation. Software is revolutionising the business models of every single industry and every company has to rise to the commercial challenges this change creates.
Allianz is transforming to become a digital-by-default insurer to ensure we offer high-quality, personalised, data-driven digital experiences that are tailored to our customers' needs.
This requires a significant step change in the speed, agility and quality of how we create and deliver value to our customers in order to continue our history of innovative success.
We have embarked on a full-scale DevOps and cloud transformation – changing the way our processes and technology interact to accelerate our ability to respond to the market and deliver exceptional experiences to our customers.
The depth and breadth of the change before us is sizable. Transforming from a partially agile organisation into a full DevOps operating model in the public cloud involves not only fundamental shifts in how we work and the technologies we use, but also a shift in mindset.
Content Continues Below

Download this free guide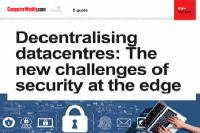 Decentralising datacentres: The new challenges of security at the edge
In September 2020, the Computer Weekly Security Think Tank, our panel of information and cyber security experts, considered the challenges inherent in decentralising the datacentre, and set out to answer the question, how can security professionals ensure such setups are just as secure as the traditional centralised model? Read more in this e-guide.