Patryk Kosmider - Fotolia
Canada's CGI takes top spot in UK government IT contracts for 2017
Analysis of government procurement data shows CGI topped the table for new IT deals, earning more than four times the amount of its nearest rival
Canadian IT services provider CGI was the biggest winner of UK government IT contracts in 2017, raking in deals worth more than four times those of its nearest rival.
The supplier won £844m of new contracts and framework deals with central government, according to an analysis of government procurement data by research firm Tussell. Second-placed Atos took £183m in new business, with Capgemini third on £122m.
CGI's dominance was largely due to a "significant" contract with the Ministry of Defence (MoD), according to Tussell. CGI acquired UK IT services firm Logica for £1.7bn in 2012.
The figures relate only to new contracts awarded in 2017, and do not reflect overall spending on existing supplier agreements. Nonetheless, the top 10 IT suppliers demonstrate the changing nature of government IT purchasing.
Historically, the IT companies taking the largest share of UK government budgets have been giants such as Hewlett Packard, which topped a list of total spending in 2014, followed by Capgemini, Fujitsu, Atos, IBM and CSC.
According to Tussell's research, IBM came fourth for new contracts in 2017 worth £110m, Fujitsu was fifth with £106m, while DXC – formed from the merger of CSC and HP's IT services arm – was eighth with just £5m of new deals.
HP – which since 2014 has split into HPE, HP Inc and DXC, and sold its software business to Micro Focus – failed to make the top 10 for new business this year, although HPE still earns hundreds of millions from existing large-scale outsourcing deals with the Department for Work and Pensions and the MoD, among others.
Read more about government IT spending
Outsourcing firm Capita, also historically one of the largest IT services suppliers to government, won £345m of new deals this year, but the Tussell data does not break this down between IT and non-IT arrangements.
BT remains comfortably the biggest telecoms supplier to Whitehall, earning £536m of contracts in 2017, compared with £30m for second-placed Vodafone.
Gus Tugendhat, founder of Tussell, said: "In 2017, the value of wider public sector procurement was £144bn – equating to roughly 7% of UK GDP – representing a significant strategic opportunity for UK business. It is inspiring to see how well businesses are seizing the commercial opportunity to work with government, and this data allows businesses of all sizes to identify their position in the market and future opportunities for growth."
Content Continues Below

Download this free guide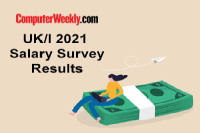 2021 UKI Salary Survey - Diversity Infographic
We take a look at our 2021 Salary Survey results from over 300 respondents who work in the UKI IT sector. We will be breaking down which job functions get paid what, what areas of IT companies will be investing in in 2021, the current diversity landscape residing in the UK tech sector and how the pandemic has effected IT staff.