Big IT suppliers top government spending on contracts
IT firms are earning the most from government contracts, with HP alone earning more than £1.7bn a year
IT firms are earning the most from government contracts, with HP alone earning more than £1.7bn a year.
According to the Whitehall Monitor, six of the top 20 suppliers to government are IT firms, and the rest are construction and business process outsourcing companies.
HP is the highest earner, clocking up more than £1.7bn in 2012 and 2013. Capgemini was second, earning about £1bn in each of those years.
The report shows that HP relies heavily on the Department for Work and Pensions (DWP) for contracts, while Capgemini relies on HM Revenue and Customs (HMRC).
Fujitsu, Atos, IBM and CSC are the other four IT suppliers to make the top 20 list of government contracts, with the total revenue for the six IT suppliers coming to £4.6bn in 2012 and £4.2bn in 2013.
But the report was not able to come to any conclusions about government spend with SMEs because of a lack of data.
"A lack of useful open data, particularly on indirect spend with SMEs further down the supply chain, makes it impossible to make direct comparisons with government figures, however valid they may be," the report said.
The research, from the Institute for Government (IfG) and Spend Network, is based on provisional data from spend statements by 247 central and local government organisations. But the IfG was keen to point out that the report is a work in progress, and improvements will be made as inaccuracies are pointed out.
After the report was released, the DWP said there were "significant discrepancies" between the published figures on its spend with HP and the department's own data.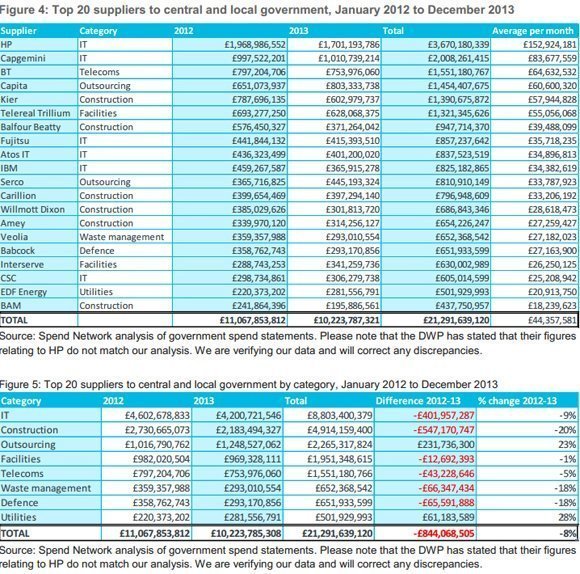 The Whitehall Monitor figures
The IfG is calling for the government to be more transparent about releasing contract data in the future.
IfG researcher Gavin Freeguard, who was responsible for the research, said: "It reflects well on the government's commitment to transparency that we have been able to produce this analysis of independent suppliers to government. Nonetheless, this research shows how difficult it is to analyse who is contracted to provide our public services and what it costs."
But Freeguard said cost is only one part of contract transparency, and the government also needs to be transparent about contract terms and the performance of suppliers funded by taxpayers' money.
"We hope our analysis will prompt the government to improve the quantity and quality of the data it shares, so that future analysis becomes ever more accurate," he added.
In November 2013, a National Audit Office (NAO) report raised concerns about the dominance of certain government suppliers. At the time, the report called for more transparency over contracted services.
"Contracting with third parties is an important element of public service delivery, but there is currently a lack of transparency over the role that contractors play, the business they do, the rewards they make and the way they perform," the NAO report said.
The above figures were correct at the time of publication
Read more on IT for government and public sector