Case study: Model railway company Hornby overhauls payments with Braintree
Hornby's head of digital strategy explains how the firm chose Braintree as its online payments platform following its website migration last year
Model railway retailer Hornby launched a responsive website in June 2014 to cater to the technology-savvy generation who use their phones for everything.
After the new website was put in place, Hornby implemented the Braintree V.Zero payment gateway system, owned by PayPal, to allow customers to safely complete online transactions.
Almost a year on, Hornby's head of digital strategy, Richard Fletcher, explains why, even for an established brand, it is important to stay on top of the current trends and engage the ever-evolving customer base.
"It's something that the business knows it needs to do," he says. "Part of the challenge is just to ensure that we are always very mindful to our trade partners and retailers, but in a sense it's online or bust."
The need for responsive web design
Fletcher explains that the implementation of digital systems such as a responsive website or mobile apps are necessary to ensure further engagement between the separate brands, such as Scalextric and Airfix, with its customers.
Like many companies which make the move to a responsive website, Hornby could see a third of its site traffic was coming from smartphones and tablets. Its customer base is diverse, so the firm had to make sure it was catching its customers no matter how they hoped to interact with the business.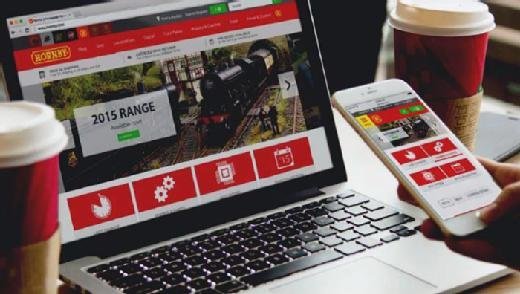 Hornby developed a responsive website to serve customers using mobile devices
"Our audience is really wide ranging. We have enthusiasts who are fanatical about collecting the locomotives or Hornby, or connecting their racetracks around Scalextric, or building specific models of certain figures with Airfix," says Fletcher.
"On the other end of the scale, we have people who perhaps would only consider us once or twice a year for a present. So we need to be all things to all men and we need to make sure we represent the brand. It's a community; we want people to feel at home when they hit the website, and feel like they're part of a hobby and an experience."
The brand wanted to make sure it gave users the confidence to buy across any channel, from online to mobile to in-store.
Before the responsive approach, Hornby had a long-standing website which had been custom built, but it was no longer fit for purpose. "It can be a great benefit to have something tailored just for you, but it means you're limited for future expansion," says Fletcher.
At the time the original website was built, there was little known about how to properly utilise e-commerce, so to add it on would have been very time-consuming and expensive.
Giving customers the chance to reserve
Fletcher explains that although the previous website enabled e-commerce, it had more of a feel of an online catalogue that people could buy from than a platform that could drive both commerce and brand interaction.
"From a payment perspective, we just wanted to be able to innovate. The primary reason for choosing Braintree was that I wanted a payment services provider that would power a planned pre-order functionality," says Fletcher.
"We always have a huge amount of anticipation for range announcements, and people are desperate to know what our new products are across all of the brands, so it was essential that consumers had the confidence and the ability to be able to pre-order their items on day one."
Allowing customers to pre-order products was the main reason for deploying the Braintree payments system, and has given the website a huge boost in visits and conversion rates.
Hornby used external agency Gene Commerce to perform a bespoke integration of the payment system, but has an in-house team that looks after the website from a marketing and design perspective.
"We've seen a huge improvement in conversion and traffic to the website. For conversion we're looking at a double-digit improvements year on year for online orders," says Fletcher.
Extending the customer experience
Although the firm considered mobile apps, it felt a responsive site was more suited to the brand than a mobile application. "The best way was to manage from a single point rather than looking after a website and app separately," says Fletcher.
"There might be some mobile-specific items we can develop for some of the brands. For Scalextric, for example, we have app racing control technology," he says, pointing out that the mobile application controls for Scalextric also allow users to gauge fuel level, tyre wear and fastest lap times for the cars, bringing the experience of the brand to a different platform.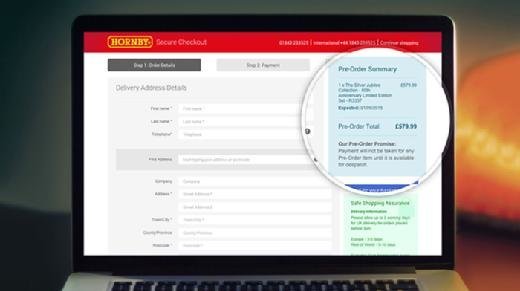 Allowing customers to pre-order products was the main reason for deploying the Braintree payments system
"We're hoping to make Scalextric as easy as possible for people to engage with," he says.
The brand has developed a standalone power base, which will allow all Scalextric models, including those from the 1970s, to be controlled from an iPhone or iPad. "We can engage that more closely with the website and get people to compete in terms of fastest laps and things they've done," says Fletcher.
The firm plans to work a lot on engagement over the next year, having launched website blogs for each of the brands and insights into how products are created. It is also hoping to expand its reviews platform and social media strategy.
"We've got these iconic brands with a great deal of history, and my goal for the online team is to be able to innovate for the future to make sure we can support the brands, grow the hobbies and keep both our enthusiast and mass-market consumers happy," Fletcher concludes.
Read more about responsive website development
Holiday resort management firm Park Resorts' responsive website delivers new features and improves the user experience.
When faced with rebuilding the company website, many channel firms may not have the in-house expertise they need, leading some to seek third-party help.