Oleksiy Mark - Fotolia
DE-CIX switches on Internet Exchange in Finland
Comms tech provider celebrates 10 years of partnership with Internet Exchange operator and home to leading carrier and datacentre neutral interconnection ecosystem
Having worked with the Finnish comms tech provider Nokia for over a decade to drive global expansion and create what it says is the largest carrier and datacentre neutral interconnection ecosystem, DE-CIX has begun operation of Internet Exchange (IX) in Helsinki.
DE-CIX said that over the course of the past 10 years, Nokia has responded to its specific regional needs and requirements with "world-class hardware" and that it was delighted to bring its interconnection services to the tech firm's homeland.
DE-CIX offers its interconnection services in more than 40 metro-markets in Europe, Africa, North America, the Middle East, and Asia. Accessible from datacentres in over 600 cities world-wide, it connects thousands of network operators (carriers), internet service providers (ISPs), content providers and enterprise networks from more than 100 countries; and offers peering, cloud and interconnection services.
The new IX is now available in Equinix's datacentres in Helsinki (HE-CIX), with more enabled sites to be announced in due course. The opening is taking place in parallel with the launch of a new digital hub, which will be an important part of the DE-CIX interconnection ecosystem in the Nordics.
Customers in Finland can now benefit from direct access to over 50 clouds, more than 2000 local and international networks and over 250 datacentres in Germany, Southern Europe, the US, and Asia with one single contract.
In addition, DE-CIX in Finland will act as a digital hub for regional connectivity, enabling local networks low-latency interconnection and localisation of global content, while increasing network stability, scalability and security. The DE-CIX interconnection and cloud platform also offers service features and automation, including access to the DE-CIX self-service portal and the DE-CIX API.
DE-CIX will further extend its presence in the Nordics with two new Internet Exchanges in Denmark and has recently announced that two locations in Norway are ready for service.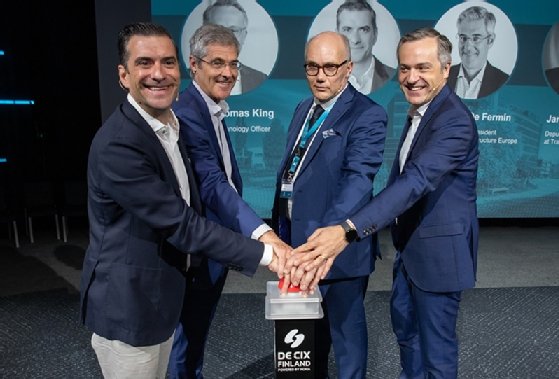 The DE-CIX Apollon interconnection and cloud platform includes cloud-routing services for businesses to manage their hybrid and multicloud scenarios and gain control of their data beyond the public internet.
Using the approach of one access, all clouds, and every network, DE-CIX will bringits InterconnectionFLEX service to Finland, which is designed to provide enterprises with a complete interconnection package as a solution for cloud connectivity, virtual private network interconnects and direct peering between networks.
DE-CIX's and Nokia's relationship is described as being based on joint research and development efforts and standardisation initiatives, and is claimed by the companies to have resulted in reliable, low-latency and "seamless" peering and interconnection services for global customers.
Nokia has provided hardware such as the newly developed FP5 network processor, designed to support 800 GB Ethernet. This technology can be found in the latest Nokia 7750 SR-14s models, which DE-CIX uses at its IX in Frankfurt, one of the largest Internet Exchanges in the world, with a data volume of almost 34 Exabytes per year (as of 2022) and close to 1,100 connected networks.
"We're proud to celebrate this significant milestone with DE-CIX. Our 10-year journey together has been paved with innovations and we're pleased to build upon this success," said Rafael de Fermin, senior vice-president of the Nokia network infrastructure business in Europe. "Together, we are continuing DE-CIX's innovation vision with the expansion of its interconnection services to meet growing demands not only in Finland but around the world."
DE-CIX CTO Thomas King added: "As we provide local and internationally acting enterprises with a modern, scalable infrastructure to gain control of their business-critical data journey, we are pleased to continue to have Nokia as a trusted partner.
"We are looking forward to our joint response to tomorrow's world, where emerging technologies such as the future digital applications for the immersive internet are also already defining the new standards for latency, data security and redundancy."
Read more about Internet Exchange
Read more on Network hardware