pathdoc - stock.adobe.com
Innovation and skills at the heart of CBI report
The Confederation of British Industry (CBI) wants an inclusive and innovative economy, with increased research and development (R&D) investment and better digital intensity and adoption, particularly among SMEs
The Confederation of British Industry (CBI) has published a report setting out how UK business can transform the country's economy.
The CBI report said that a decarbonised, innovative, inclusive and globalised economy brings around £700bn worth of "opportunities on the table by 2030".
Innovation is key to the country's success in becoming a scientific superpower, the report said.
"Innovation and technology are powerful engines of prosperity, inclusion and resilience that will drive radical benefits across society – from decarbonisation to healthier lives and high-value jobs," the report said.
"Innovation and digital adoption are key to unlocking productivity growth, from successful SME [small and medium-sized enterprises] technology adoption to the transformative effects of artificial intelligence [AI] through to realising export opportunities, such as fintech."
The report added greater AI diffusion, for example, could add £38bn to UK gross value added (GVA) by 2030.
Research and development (R&D) is also key, with the CBI wanting the UK to "turn up the dial on R&D to match the Organisation for Economic Co-operation and Development [OECD] levels of investment, so that we can lead the world in the quality of research and increased levels of business development".
By 2030, the report said, the UK will have a "distinctive advantage" through its focus on innovation, "including in new technologies, where we will become a natural global hub for R&D".
"We will thrive in global industries, where R&D, high-value skills and innovation have opened up opportunities for export markets and high-value domestic jobs. We will boost the productivity, dynamism, and digital maturity of foundational sectors that employ millions, such as retail, hospitality and construction, to secure the UK's recovery and grow opportunity," the report added.
The CBI has on several previous occasions called on the government to increase its investment in R&D.
However, to get there, the country needs to have an inclusive economy where no one is left behind. The CBI said that the Covid-19 coronavirus pandemic has made the imperative to reskill people even greater, and with the UK consistently ranked as one of the least socially mobile nations among its peers, the confederation finds it important to ensure that everyone has the skills and opportunities they need to succeed.
This includes tackling the UK's digital skills gap, where around 50% of adults lack "essential digital skills for the workplace".
"UK success in strengthening skills, diversity and inclusion across business is a vital enabler to securing other economic prizes, including decarbonisation, trade and levelling up, and achieving the UK's ambitions for 2030," the report said.
The CBI's report aims to complement the government's Plan for Growth, set out in the 2021 Budget.
Launching the strategy on 24 May, CBI director-general Toby Danker, will say that the plan is to "make the UK the most competitive, dynamic and future-focused economy in the world" and become a beacon to the world "in achieving green growth".
"We can turn up the dial on UK innovation investment to make the UK the best place in the world to start and scale up a business. If we want to be a trading powerhouse, we need more UK firms to export – diversifying the products and services, and markets that they sell to," he will say.
"And we simply must deliver better growth and greater shared prosperity in the regions and nations of the UK. Our long-standing history of productivity and income disparities have held us back.
"If we want to level up our country, we need companies to strengthen their regional footprint and investment, to work with government to truly play to local strengths. We need to work together at every level – with first ministers, mayors, local partnerships and beyond."
Content Continues Below

Download this free guide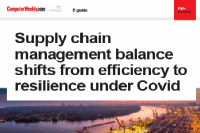 Supply chain management balance shifts from efficiency to resilience under Covid
This e-guide explores these matters, beginning with a comprehensive article that ranges over supply chain management, from a macro level through how trading platforms have been flexed to switch suppliers rapidly down to how robots have been quickly deployed to solve problems of scale.
Read more on CW500 and IT leadership skills