iStock
Central government should promote data policy compliance, say civil servants
Most civil servants want the government to gain additional powers to promote data policy compliance to ensure better use of data, according to research
More than half of civil servants want central government to have more powers to be able to promote compliance with data policies, according to a survey.
Researchers from NTT DATA UK surveyed civil servants and found that 63% said better use of data was "absolutely essential", but at the same time, 49% said they were unaware whether their employer had published a data strategy at all.
The researchers surveyed nearly 350 civil servants and found that 53% wanted central government to gain additional powers to provide data policy compliance to ensure the government made better use of data.
Civil servants also wanted better training, with 80% finding professional development for data key to improving use of data.
In January 2021, the government announced plans to create a Central Digital and Data Office (CDDO) to serve as a strategic centre for digital, data and technology (DDaT) across government.
The office will be led by Joanna Davinson, currently chief digital, data and technology officer (CDTO) at the Home Office, who in her new role will be in charge of the government's 18,000 DDaT professionals and lead the DDaT function for government.
The survey report said that when civil servants were asked to name their top three goals in terms of better data use, nearly two-thirds included improvements to evidence-based policymaking.
"They also prioritised the use of data to better connect and target services, provide a single access point for users, and strengthen impact assessments," it said.
"Most civil servants reported that their employers are making fair progress in developing the policies and systems to make better use of data: about 40% said the necessary capabilities are largely in place, and a further 25% that they are implementing improvement plans.
"But a substantial minority of organisations seem to be well behind, while many officials were hazy on the policy framework – with half unable to say whether their employer has a published data strategy."
Read more about government IT
Content Continues Below

Download this free guide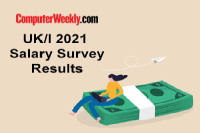 2021 UKI Salary Survey - Salary Infographic
We take a look at our 2021 Salary Survey results from over 300 respondents who work in the UKI IT sector. We will be breaking down which job functions get paid what, what areas of IT companies will be investing in in 2021, the current diversity landscape residing in the UK tech sector and how the pandemic has effected IT staff.
Read more on IT for government and public sector