diego cervo - stock.adobe.com
Chatbots will not replace call centre agents
Chatbots have not lived up to their promises and are better poised to support call centre agents in the blended realm of customer service and employee collaboration, says a regional Avaya executive
Chatbots will increasingly empower rather than replace call centre agents as more organisations come to grips with the limitations of the technology.
That is according to Sami Ammous, Avaya's vice-president for East Asia and the Pacific, who noted that organisations that were too eager to deploy chatbots to reduce costs and minimise headcount were facing backlash from customers.
"You end up fighting with a bot for 10 minutes before you get to speak to an agent," Ammous said. "Sometimes, the bots are useful but oftentimes they are frustrating."
Against this backdrop, Ammous sees chatbots working in the background, suggesting solutions and retrieving information for call centre agents – even facilitating conversations between agents and other employees in an organisation to solve a customer issue.
"That really makes the agent's job more effective and it's a nice blend of customer service and employee collaboration," he said.
However, enterprises have traditionally seen contact centre and collaboration software as separate tools, a mindset that needs to change.
"They are often based on different technologies and we're seeing that businesses today are so complicated that it's really difficult for an agent to know everything that's needed to serve customers.
"We're finding that the agent now needs to tap other resources in the organisation, to ask questions, get clarifications and track a process. All of that requires collaboration through the back office in the unified communications space."
Ammous said Avaya's unified communications and contact centre offerings had always been based on the same platform – even though some features such as voice recordings could be configured differently.
"As an agent, you can see the presence of specialists and you can add them to your call. You can have them on voice or video and see their shared content," he added. "That gives you the ability to collaborate."
Whether organisations will embrace a blended approach towards employee collaboration and contact centre activities will depend on the culture of an organisation.
Ammous said more progressive firms will develop internal processes and structures to leverage all the expertise they have in their organisations to serve customers, while others may still prefer to keep customer service as a separate function.
Avaya itself has been progressive in the way it keeps up with the changing market for unified communications and collaboration tools. While the company is known for its telephony hardware, it is now more focused on software and cloud subscriptions to drive its business.
"Most of our customers today are moving to a pure software environment and cloud-based subscriptions are becoming the number one choice for many of our customers," Ammous said.
To support its transition to a cloud-based software provider, Avaya has retooled business processes such as billing, where rate cards are the norm for cloud subscriptions rather than individual line items for hardware purchases.
It has also spent more time training staff over the past year than it did before to get all employees up to speed with the company's focus on delivering cloud-based offerings.
"It's not just our salespeople, but also the rest of the company, so that everyone is speaking the same language," Ammous said. "Even our marketing and branding has changed to reflect that everything is cloud first, subscription first, services first and software first."
Read more about unified communications in APAC
Content Continues Below

Download this free guide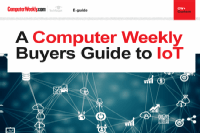 A Computer Weekly Buyers Guide to IoT
In these uncertain times, making solid predictions for the year ahead looks like a definition of a mug's game. While this has been the fuel for the fire for the boom in applications such as video conferencing as used to support remote working, the same really can be said for the internet of things (IoT). Download this E-Guide to find out what enterprises need to know about IoT.