dottedyeti - stock.adobe.com
UK Space Agency funds three Covid-19 tech projects
Projects include drones to carry coronavirus tests and samples, a mobile app using satellite technology to provide access to community transport, and e-learning courses in Earth observation data analysis
The UK Space Agency has announced £1.3m funding for three technology projects aimed at helping prevent the spread of Covid-19.
One of the projects, which is based at Broomfield Hospital, part of Mid and South Essex NHS Foundation Trust, will see drones use satellite-enabled GPS to deliver coronavirus samples, test kits and personal protective equipment (PPE).
The project is led by Apian, a company that came out of the NHS Clinical Entrepreneur Programme and was founded by two junior doctors and Mid and South Essex innovation fellows. The company is installing dronepad infrastructure so the drones can take off and land on hospitals, laboratories and warehouses, avoiding call-out waiting times and reducing physical contact.
Apian will also create a network of secure air corridors to enable drone delivery across the NHS. NHS England anticipates that, in the future, drones will be used to deliver other medical supplies, such as medications, blood packs and equipment.
Tony Young, NHS national clinical lead for innovation, said staff have gone above and beyond to "create innovative ways for patients to get the care and kit they need alongside the UK Space Agency".
"This study, which will create droneways in the sky for vital NHS supplies, is the latest in a long line of projects founded by the NHS Clinical Entrepreneur Programme to provide innovative solutions to the challenges facing the NHS for the benefit of patients and staff," he added.
Another project to receive funding is a mobile app called DriverNet, which uses artificial intelligence to batch patients by triangulating their mobile phone location, in order to provide community transport sharing to and from hospital.
The project, led by company ProNetix, is based in St Helens, Merseyside and will see the app book hospital appointments for patients who need transport for the same location at the same time.
Read more about Covid-19 and technology
The third project to receive funding is Earth Blox for Education, which is led by the University of Edinburgh and aims to support e-learning for students to learn the practical elements of Earth observation (EO).
This includes a free "introduction to EO" course, as well as a 10-credit online distancing learning module on "the use of EO for sustainable development goals monitoring" for students to perform data analysis.
Announcing the funding, science minister Amanda Solloway said the efforts of the UK's space sector "to support our incredible NHS during the Covid-19 pandemic have been truly inspirational".
She added: "The projects we are backing today are fantastic examples of how our leading space scientists are supporting those directly on the front line to help prevent the spread of coronavirus."
Content Continues Below

Download this free guide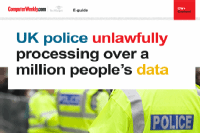 Police unlawfully process over a million people's data
The roll-out of Microsoft 365 to dozens of UK police forces may be unlawful, because many have failed to conduct data protection checks before deployment and hold no information on their contracts. Download this E-Guide to find out everything you need to know about the story.