Rawpixel - Fotolia
Coronavirus: How Trainline can tell if trains are safe to travel on
With lockdown measures easing, Trainline recently introduced a Crowd Alerts feature to its app to help travellers feel safe using rail services
At the start of July, Trainline introduced the Crowd Alerts feature to its app, which enables users to share real-time feedback on whether it is possible to social distance on the train they have boarded.
The rail industry has yet to come up with a comprehensive application programming interface (API) to enable operators and third-party apps to share information on whether a train is full or overcrowded. Trainline has worked around this issue by encouraging users of its app to provide direct feedback, which is correlated and broadcast to every Trainline app user.
This is not the first time the company has crowdsourced train data. Trainline's senior product director, Dave Slocombe, who led the team that developed the feature, says Crowd Alerts is an iteration of an existing feature in the Trainline app called BusyBot, which crowdsources data to help passengers identify the train carriages in which they are most likely to find an empty seat. For instance, if a customer is looking ahead at travel options for the next day, BusyBot shows a prediction of how busy the train might be, based on what people had fed back about the same train on previous days.
But unlike BusyBot, Crowd Alerts uses real-time feedback, rather than predictive analytics. The new functionality enables the Trainline customer community to alert one another if certain parts of a train (front, middle and back) are too busy to allow for social distancing.
The app takes real-time crowdsourced passenger data to give people information to enable them to decide if it is safe to travel. When customers tap the "live tracker" button for an upcoming journey in the Trainline app, a pop-up message asks them to confirm whether social distancing is possible on their train by clicking a "thumbs up" or "thumbs down" button.
If the customer clicks "thumbs down", they will be asked to share whether they are in the front, the middle or at the back of the train. If a customer shares feedback to say social distancing is not possible, a bubble will be displayed for all customers searching this journey in Trainline's app. An orange bubble means customers have reported the whole train as busy, while a blue bubble means customers have reported one section of the train (front, middle or back) as busy. The number in the bubble shows how many customers have shared this feedback.
Peak travel changes
Trainline ran a trial of Crowd Alerts on Northern Rail to check if everything worked. The trial was used to assess the proportion of train journeys for which Trainline users actively gave feedback, and then measure customer satisfaction based on whether the information the app then provided to other Trainline users was useful or not.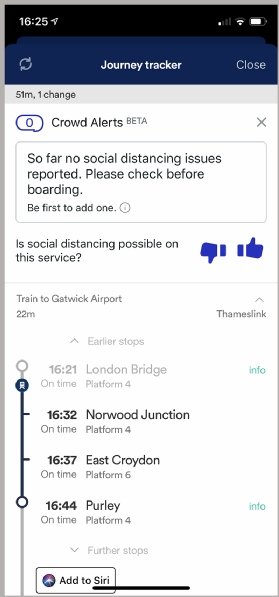 "What we learnt from the trial is how few trains have poor social distancing – 90% of trains have good social distancing; only 6% of trains are busy," says Slocombe.
Such data helps people feel confident they can return to train travel and social distance on their rail journeys. "Initially on lockdown, trains were very quiet, but, to aid recovery, we have to give people insight," he adds.
One interesting thing to note is that rush hour peak times have changed, says Slocombe. "We are not yet fully at occupancy, but time of travel is quite different compared to before Covid. Ordinarily, it would be busy at peak times," he says. But now, busy travel times appear to have flattened out across the day.
Given that the app actively asks every customer to give real-time feedback, one of the key performance indicators for Slocombe and the team at Trainline is to have 80% feedback on the top 1,000 train journeys.
Remote development
Slocombe says the Crowd Alerts function was developed very rapidly during lockdown. "We had a new way of working and had to simplify management by empowering the teams," he says. "One of the things that worked really well is that we pulled together a cross-functional team."
He says the new functionality offered by Crowd Alerts was built by a team comprising engineering and data science staff. The software relies on the Apache Kafta event streaming platform for data processing and updates the app every minute.
"Normally we would have a whiteboard with sticky notes and interview customers, but you lose that," says Slocombe. Instead, the team used iPads and pencils to show ideas.
Moving 600 people to remote working involves more than the business side of getting work done. To help people remain connected to colleagues and the business during lockdown, Slocombe says Trainline had weekly events to showcase what people were working on, which was "quite inspiring and motivating". It also had remote gin, beer and soft drinks.
As more people return to travelling by train and begin to use Crowd Alerts, Trainline says it will make the anonymised crowdsourced data available across the rail industry to help train operators identify parts of the network that customers are reporting as busy.
Read more about crowdsourcing
Data analytics supplier SAS took the opportunity of World Bee Day to say it is decoding bee communication through machine learning, and generally promoting bee health.

Sometimes you just need a lot of users playing with your app to find out how it's really working. Enter crowdsourced testing, the latest strategy to speed up your mobile devevelopment.