sdecoret - stock.adobe.com
British companies dominate safety tech sector
UK companies dominate 'safety tech' sector with a quarter of global market share, says report, although legislation regarding online harms has stalled
The UK's safety technology providers are leading the world in online safety innovation, holding an estimated 25% of the global market share, according to a report.
The Safer technology, safer users: The UK as a world leader in safety tech report highlights how the number of dedicated safety tech firms has doubled in the past five years, bringing the total to 70, as well as how investment in those companies has increased more than eightfold in the same time.
Safety technology is defined in the report as "any organisation involved in developing technology or solutions to facilitate safer online experiences, and to protect users from harmful content, contact or conduct".
Since 2015, firms in the sector raised £6m in external investment across 10 deals, but by 2019 the figure had increased to £51m across 19 deals. Given these numbers, the report estimates the sector has witnessed 35% annual growth since 2016.
Some of the more established safety tech companies, which are classified as those earning over £5m, have even grown at rates of up to 90% a year, with the report suggesting safety tech revenues could exceed £1bn by 2025, and that the sector would see its first billion-dollar valuation in the early 2020s.
The independent research report was conducted by Perspective Economic, a Belfast-based economic advisory firm, on behalf of the Department for Digital, Culture, Media and Sport (DCMS).
British safety tech companies covered in the report include Cyan Forensics, Cubica Technology and VigilAI, which work closely with law enforcement on digital forensics; Crisp, Qumodo and Spirit AI, which assist social media and gaming platforms in identifying bullying; and Full Fact, Factmata and Astroscreen, which tackle misleading or harmful narratives online.
"The aim is that the innovation network we'll be supporting provides an essential platform to foster creativity and collaboration in this dynamic sector"

Ellie Bradley, Nominet
In response to the report's recommendations, which include promoting awareness of the sector, supporting it with the right forms of capital for growth and enabling improved access to data, among others, the government announced it would launch the Safety Tech Innovation Network later this year.
The government said it would be the first forum for these kind of companies anywhere in the world, and that it would be co-funded by Nominet.
"We've worked hard to understand what the most effective instruments will be to energise the safety tech sector in the UK. Leaning on our experience operating a world-class domain registry, our cyber security expertise and our 'tech for good' initiatives means we are in a unique position to help enable the digital economy in this emerging space," said Ellie Bradley, MD registry and public benefit at Nominet.
"The aim is that the innovation network we'll be supporting provides an essential platform to foster creativity and collaboration in this dynamic sector – and bolstered by key research, business support and future investment we hope these interventions sow the seeds that see the UK leading the world in safety tech."
According to minister for digital and culture Caroline Dinenage, the report shows the value that safety tech could add to the UK as "we look to power growth out of it".
"Its innovative products, many of which are developed in towns and cities across the country, are being used globally to help companies make their online platforms safer. The government is leading the world developing online harms laws and it's great to see our brilliant British tech industry is part of the solution," she said.
Online harms delays
However, during the House of Lords Democracy and Digital Technologies Committee meeting on 12 May, lords expressed concern and frustration over delays in getting an online harms bill in front of Parliament, and asked for an update on the timeline of the process, including when a full response to the whitepaper would be coming out.
The government set out its initial response to the whitepaper in February 2020, putting forward proposals to give Ofcom a range of powers to act as an online harms regulator.
Responding to the committee, Dinenage said there had been a number of interruptions to parliamentary procedures over the past six months, and that while it was originally planned for publication in the summer, the response would be delayed because of the pandemic.
"The experience of Covid-19 has brought into very sharp focus the reason that this is important. It has underlined what dangers there are online, and what those harms are, particularly where young people are being educated and vulnerable people are accessing digital content all the time during lockdown," she said at the time.
"There is no relaxation of our emphasis in delivering this government priority, but as ever we have to get it right – for businesses, for freedom of speech and expression – and it's got to make sure it protects the most vulnerable."
Not all committee members were satisfied with the explanation, however, with Labour peer Baroness Morris of Yardley asking what the government had done to change its procedures so that legislation could be delivered in a timely fashion.
"I accept everything you say about things that get in the way of getting space on the legislative timetable – I've experienced that myself and I know it's a reality," she said.
"The thing that bothers me is, to be honest, by the time our government system has found space for the legislation, the problem won't be the problem that the legislation is trying to deal with. This area moves so quickly that it will have moved on, and we'll be solving a problem that was two years ago."
Chloe Smith, minister of state at the Cabinet Office, responded that the government was taking a "principles-based" approach to future-proof the rules and mitigate the lack of pace, as it meant any legislation introduced would be tech-agnostic and "stand the test of time".
"I'm not saying I've got the answer, but I tend to worry about the cultural acceptance in government that that's okay – that we all understand things get in the way, things come along, everyone's fighting, just wait your turn – that's the way it's always been. What I'm trying to say is that won't work in this area of policy," said Morris.
Read more about online safety
The government has released its initial response to 2019's Online Harms White Paper, setting out a number of decisions about how it will regulate harmful content on the internet.
Facebook has announced the first 20 members of its oversight board, a new independent body responsible for content governance, moderation and enforcement.
High levels of distrust in the motivations of technology companies and a lack of meaningful influence over their behaviour has left the British public feeling digitally disempowered, says Doteveryone report.
Content Continues Below

Download this free guide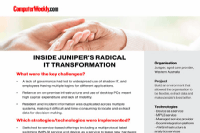 Project Brief: Inside Juniper's radical IT transformation
Western Australian aged care provider Juniper embarked on an aggressive strategy to completely transform its IT operations in just two years. This 1-page brief summarises how this overhaul has helped free up the resources needed to provide better quality of care for residents.