Snap
Snap taps Verizon as 5G partner to extend AR, video experiences
US comms giant Verizon teams with Snapchat creator to look at supporting advanced video applications such as augmented reality on its 5G network
Looking to enhance its reputation for more than just pretty pictures, Snapchat creator Snap has announced a partnership with US communications giant Verizon to use its 5G Ultra Wideband technology to support Snap's visual communications and content experiences, including augmented reality (AR).
To put the reach of the partnership into perspective, Verizon's 5G Ultra Wideband network launched in April 2019 in 18 US cities and 16 sporting and entertainment arenas. It plans to expand to more than 30 cities by the end of 2019. The Snapchat digital platforms reaches more than 200 million mobile users, including 90% of all 13-24-year-olds and 75% of all 13-34-year-olds in the US.
Verizon believes its 5G network's low latency, high speed and high bandwidth will enable Snap's AR innovation, and as they embark on their work at Verizon's 5G Labs, the two companies will look to create new experiences for consumers, including opportunities to experience live events in new ways through Snapchat.
This will encompass the use of Landmarker technology, which creates location-based entertainment experiences and portal lenses that can transport fans backstage at a concert or provide spectators unique in-stadium experiences from their seat during the game.
The companies added that the partnership would also see consumers enjoy activations at select Verizon marketing moments and throughout the Snapchat advertising platform. Verizon will preload the Snapchat application on select 5G phones, and provide exclusive offers through strategic programmes such as Verizon Up, and the partnership will also include premium sponsorship placements within Snap Originals video series.
"5G will change the way people live, work and play and we're partnering with leading companies like Snap to create unique experiences and new offerings," said Frank Boulben, senior vice-president of marketing and products at Verizon Consumer Group, explaining what the company would like to see result from the partnership.
"Our strategy is to partner with the best brands to ensure our customers have exclusive access to cutting-edge technology and services."
Content Continues Below

Download this free guide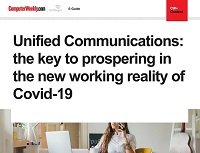 Unified Communications: the key to prospering in the new working reality of Covid-19
The coronavirus is changing everything about how people work, and will do so permanently. It added that even though the working world was experiencing unprecedented uncertainty, there were two things that should be borne in mind: the virus will pass, and at the other side of the pandemic, the world of work will look very different.