Satoshi Kina - stock.adobe.com
Li-Fi takes to the skies with Oledcomm
Oledcomm claims a world's first in equipping an Airbus commercial flight with Li-Fi connectivity technology
After demoing the technology at the Paris Air Show earlier this year, Oledcomm is claiming a world's first in equipping a commercial flight with its of visible light data exchange (Li-Fi) connectivity technology.
Li-Fi is said to offer sound fundamental advantages compared with other connectivity solutions, such as unlimited bandwidth, accurate positioning of signal beams, high levels of security, and much reduced electromagnetic interference.
Mobile network operator (MNO) O2 has already tested the potential of Li-Fi as a means to enhance consumer home networks and future-proof its service ahead of widespread 5G deployment.
The integration of Oledcomm modems in the A321 is the result of two years of research and development.
In addition to offering 100Mpbs connectivity and improved spatial coverage, Oledcomm said that by equipping flights with its technology, airlines will be able to reduce the carbon footprint of their in-flight entertainment system as Li-Fi makes it possible to considerably reduce essential equipment weight and thus reduce fuel consumption.
The trial flight saw an Airbus A321 aircraft flight equipped with Oledcomm modems, which the company said are the only Li-Fi modems certified in the aviation industry to date, and took place on 30 October in France from Paris to Toulouse, the home of the aircraft manufacturer.

Download this free guide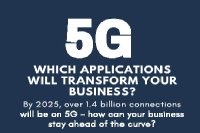 Infographic: Which 5G applications will transform your business?
Operators have started work on their 5G network roll-outs, but what are the applications that are most likely to gain enterprise traction for the new standard?
Read more on Network hardware