designsoliman - Fotolia
O2 tests Li-Fi transmission technology to enhance home networks
Mobile operator O2 is testing the application of Li-Fi technology, using LED light bulbs to transmit data packets, to enhance consumer wireless networks
Mobile network operator (MNO) O2 is testing the potential of Li-Fi, technology that uses LED lightbulbs to provide high-speed wireless connectivity, as a means to enhance consumer home networks and future-proof its service ahead of widespread 5G deployment.
The operator is working with sector pioneer pureLiFi, which was founded by Harald Haas, professor of mobile communications at Edinburgh University, who demonstrated the first Li-Fi device (and coined the term) in a 2011 TED talk.
"At O2 we're committed to building the best network possible for our customers, and a huge part of that is making sure we're ahead of the pack in testing the latest technology," said O2 COO Derek McManus.
"Our Li-Fi trial shows how you can deliver high-speed connectivity to customers in new ways and is another example of how we're future-proofing our network as we pave the way for 5G in the UK."
Li-Fi works in the same way as traditional Wi-Fi, but instead of transmitting data in the radio spectrum, it uses the visible light spectrum instead, which is many thousands of times larger than the radio spectrum.
Advocates of Li-Fi technology say this confers a number of advantages over Wi-Fi, such as higher bandwidth, higher transmission speeds and the ability to cope better in situations where one might expect electromagnetic interference, such as on-board airliners or in hospitals. It is also said to be safer and more secure, and to reduce energy consumption.
A Li-Fi-enabled LED bulb contains a chip that transmits data by modulating the light at a rate that is imperceptible to the human eye. The data is picked up by photoreceptors in the receiving equipment, which convert the modulation back into an electrical signal.
The trial will see O2 install pureLiFI's LiFI-XC technology, made up of nine Li-Fi-enabled LEDs in the Explore Room at its Slough headquarters, to demonstrate the potential of the technology to employees and visitors.
"With the proliferation of internet of things devices and continued growth in mobile users, the demand for spectrum is under increasing pressure. Li-Fi is capable of unlocking unprecedented and much-needed data and bandwidth, and we are delighted that O2 has chosen to partner with pureLiFi to explore this tremendous potential," said pureLiFi CEO Alistair Banham.
"O2 is at the forefront of championing technologies to provide real solutions for 5G and beyond, and we look forward to working with them towards our common goal."
Read more about wireless technology
Content Continues Below

Download this free guide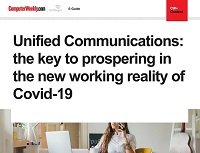 Unified Communications: the key to prospering in the new working reality of Covid-19
The coronavirus is changing everything about how people work, and will do so permanently. It added that even though the working world was experiencing unprecedented uncertainty, there were two things that should be borne in mind: the virus will pass, and at the other side of the pandemic, the world of work will look very different.