GCHQ
Home Office vetoes privacy campaigner from senior post in surveillance watchdog
The Home Office refuses academic and privacy campaigner, Eric King, security clearance for a senior role at the intelligence services watchdog, despite high-level backing from officials
Plans by the intelligence services watchdog, the Investigatory Powers Commissioner's Office (IPCO), to appoint a former privacy campaigner and one of the UK's leading experts on surveillance law to a senior role overseeing the intelligence services have been vetoed by the Home Office.
Eric King, former director of Don't Spy On Us – which campaigned for reforms to the UK's controversial Investigatory Powers Act 2016, known as the "Snoopers' Charter" – and former deputy director of Privacy International, had been due to become the watchdog's first head of investigations in 2018.
But King revealed that the Home Office refused him security clearance for the job because of his "previous work and associations", despite high-level support from IPCO and current and former members of the police and the intelligence services for the role.
The decision will be seen as is a setback for the IPCO and its head, Adrian Fulford, who actively courted the opinions of privacy groups critical of the UK's mass surveillance regime so their views could inform the work of the regulator.
In a series of tweets, King, who recently changed his name to Eric Kind, said he believed he had been denied security clearance as the head of IPCO's investigations unit because he had been critical of the security service in the past.
The highly sensitive role would have required King to oversee a team to investigate complaints into the activity of the intelligence services and allegations of unlawful use by government bodies of surveillance powers.
"I was told verbally by the vetting team that there was nothing they felt I had withheld or mislead them about. There were no problems in my personal life, with finances or other complications. Just 'my previous work and associations'," he wrote.
"So it seems I have been refused clearance for a role holding the security and intelligence agencies to account because of previous work holding those same agencies to account."
IPCO was launched in September 2017 with a remit under the Investigatory Powers Act 2016 to strengthen the regulation of the intelligence services, MI5, MI6 and GCHQ, and a wide range of other government bodies that are empowered to conduct covert surveillance.
More than 600 government departments and agencies, including local councils, which have the ability to access communications data on private individuals, are regulated by IPCO. However, the bulk of IPCO's work is overseeing the intelligence agencies MI5, MI6 and GCHQ, as well as police forces, the National Crime Agency (NCA) and HM Revenue & Customs.
IPCO has sought to engage with campaigning groups, academics and those who have been critical of the lack of oversight of the intelligence agencies to inform its work.
Campaign groups gave confidential briefings to watchdog
The regulator invited academics, lawyers and campaigning groups including The Open Rights Group, Big Brother Watch, Privacy International, the Foundation for Information Policy, and Liberty – which have been critical of the intelligence services – to a confidential meeting on 29 November 2017.
The watchdog asked the participants, including Eric King, to brief 10 newly appointed judicial commissioners – who are responsible for overseeing the work of the intelligence services – on the non-governmental organisation's (NGO's) views and concerns of the Investigatory Powers Act 2016 and its operation.
IPCO made it clear that it wanted the judicial commissioners, who are required to act as co-signatories with the Home Secretary for approving interception warrants, to hear from the NGOs and academics before they were briefed by other government agencies.
According to those who attended the meeting, conducted under the Chatham House rule, it was clear that IPCO wanted to build links with campaigning groups and to hear their views.
One participant told Computer Weekly: "Lord Justice Fulford, the investigatory powers commissioner, appeared quite clear and direct in his intention to start the process of new commissioners by exposing them to issues raised by civil society advocates before they were briefed by the agencies and departments. It was clear that the commissioner's office intended to maintain these contacts as it moved into operation."
IPCO announced at the meeting that Eric King, who has a law degree from the London School of Economics, had been offered the post of head of investigations and had accepted subject to security vetting.
"The commission was very enthusiastic about having someone with Eric's knowledge and inquiring mind to assist the commissioners in proactively identifying and researching areas of concern, such as novel technologies," one participant told Computer Weekly.
King, a visiting lecturer at Queen Mary, University of London, where he taught on criminal justice and surveillance law, is one of the UK's leading experts on the Investigatory Powers Act. He is a member of the advisory council for the Foundation for Information Policy Research, the Open Rights Group, and the Independent Digital Ethics Panel for Policing.
During the rushed passage of the Investigatory Powers Act through Parliament, King's research was used by parliamentary researchers to brief members of Parliament (MPs), including Joanna Cherry QC, who is the shadow home affairs spokesperson for the SNP and one of the few MP's to speak out against what were seen as draconian surveillance powers in the proposed legislation.
Concerns over workload of judicial commissioners
IPCO was set up to give more stringent oversight of the intelligence services than its predecessor organisations, the Interception of Communications Commissioner's Office (IOCCO), the Office of Surveillance Commissioners (OSC) and the Intelligence Services Commissioner (ISComm), which had limited resources.
The organisation will have 70 staff, including around 15 judicial commissioners, made up of recently retired and current high court, court of appeal and supreme court judges, a technical advisory panel, and almost 50 other staff, including inspectors, lawyers and communications experts.
People who attended the meeting between NGOs and IPCO in 2017 told Computer Weekly that attendees came away with concerns, however, that the judicial commissioners lacked sufficient resources to conduct proper oversight of surveillance warrants.
IPCO's judicial commissioners are responsible for scrutinising and challenging warrants issued by the Home Office, the Foreign Office, the Ministry of Defence, and their equivalents in Northern Ireland and Scotland – a principle known as the "double lock".
"Civil society advocates found that the judges were very receptive, but came away quite concerned as to the amount of work that the commissioners would have to accomplish on a part-time basis to get mastery of their warranty processes," an attendee said.
King's security vetting result takes year
Writing on Twitter, King said he had begun discussions with IPCO two years ago for the post, but had to wait for security clearance.
"A year of that was spent waiting for my clearance to come through. This process was very disruptive to my work and very invasive of my personal life," he wrote.
The Home Office initially told King that it had refused his security clearance on national security grounds, but the vetting officer confided privately that the actual reason was connected to his previous work and associations.
I wanted to connect communities, find new ways to engage around challenging issues, increase accountability and rebuild the trust that was sorely lacking

Eric King
The Home Office reviewed the decision "after encouragement by IPCO and a number of others", but the same vetting office refused King's security clearance again two months later, King wrote.
King said the lack of trust between groups campaigning for accountability and the intelligence community was one of the reasons he was attracted to the role at IPCO.
"I wanted to connect communities, find new ways to engage around challenging issues, increase accountability and rebuild the trust that was sorely lacking," he said.
"I think it's really important for oversight bodies like IPCO to be imbued with healthy scepticism for the bodies they oversee. Having staff with a broad spectrum of view, including those critical of the agencies, seems to me like an obvious starting point."
A spokesperson for IPCO said the organisation would now take an alternative route forward: "We have only recently had confirmation of the vetting decision in relation to Eric Kind and, until that point, have not had a vacancy to fill. We are now, with the benefit of over a year of experience since IPCO was established and taking account of the range of expertise within the team, reviewing the specific skills we still need within the organisation.
"We intend shortly to advertise two posts that, between them, will cover the work that was intended to be done by the head of investigations role, albeit in a slightly different format and with some other added responsibilities. We will share the adverts widely and will be keen to encourage high quality applications from those who have an interest in this area. The Investigatory Powers Commissioner is determined that IPCO should be as transparent as possible in its work - taking account, of course, of the sensitivities involved."
Snowden: King 'knew too much'
David Anderson, a barrister and former independent reviewer of terrorism legislation, and one of King's referees for the job, said that the decision to deny him security clearance was a sad loss for IPCO.
"As one of Eric's referees and admirers, I share his disappointment in the outcome – and in the time that the process consumed. A sad loss for IPCOffice will very soon (I predict) be someone else's gain," he wrote in a post on Twitter.
Former NSA contract, Edward Snowden, who disclosed more than 60,000 documents revealing the extent of the UK and US government's mass surveillance of their own populations, was among those to criticise the Home Office's decision to refuse King security clearance.
"You want someone with the expert experience from Privacy International looking at how those bodies are working, who is inside government and who has opinions," he said, speaking through a live feed from exile in Russia at an academic conference.
"The intelligence services said no, not their person, they know too much," he said, speaking at the Blowing the whistle: the hidden history of whistleblowing and the rise of the US national security state symposium at New York University's London Campus.
King, who is on leave in Australia, told Computer Weekly that he didn't want to add anything to his comments on Twitter at this stage. A Home Office spokesperson said: "We do not comment on individuals' security clearance."
Content Continues Below

Download this free guide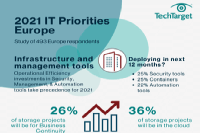 IT Priority Topics 2021 Infographic
This year, a survey was conducted quizzing nearly 500 European IT sector professionals to gather what topics they identified as being imperative for 2021. In this infographic see whether remote working is here to stay, if there will be shifts in information management trends and what infrastructure tools will be deployed by most in 2021. Download this PDF infographic to find out what the results showed.
Read more on IT jobs and recruitment