PostNL
Robots deliver savings for Dutch postal service PostNL
Dutch delivery company PostNL is reaping huge efficiency savings by using robotic technology to automate time-consuming administrative tasks
PostNL, the privately owned Dutch delivery company, is investing in robotics and automation as it responds to sweeping changes in demand for letters and parcels.
Over the past 20 years, the company has seen a huge reduction in demand for letter delivery, which have fallen by 68% from 25 million a day to eight million a day.
Over the same time, demand for parcel delivery has grown by 220% to exceed 200 million a year.
Bob van Ierland, member of the executive board and group HR director at PostNL, told Computer Weekly: "We are managing growth and decline at the same time, and that simultaneous change is really a challenge."
For a company that is already delivering hundreds of millions of parcels a year, making efficiency savings is harder for PostNL than for smaller competitors, which can see steeper improvements in efficiency by delivering, for example, just 10 million extra parcels a year.
PostNL has responded by expanding the range of products it delivers, including pharmaceutical products, which need to be kept cool during delivery, and flowers, which need special packaging to ensure they are not damaged.
It has also added fresh food deliveries, and offers services to deliver and assemble furniture and white goods, such as washing machines.
At the same time, the company is investing in technology to automate services for its own employees, including replacing outdated human resources (HR) systems with cloud services, and automating time-consuming manual HR processes.
The company has calculated that it can increase its valuation by €80 for every €1 it invests in initiatives to help its employees feel more engaged at work.
Robots take over the paperwork
PostNL has made huge gains by using robotics software to automate manual, often tedious tasks, which can be carried out more quickly and accurately by machines.
The company started in October 2017 by automating the administration required for each of the 12,000 recruits that join the company each year.
New starters are required to obtain a security vetting certificate and email it to PostNL. It takes PostNL staff 20 minutes to complete the administration steps for each new joiner. By automating the process, the company has been able to save 4,000 hours of work a year – equivalent to over three members of full-time staff.
"We are managing growth and decline at the same time, and that simultaneous change is really a challenge"
Bob van Ierland, PostNL
PostNL is using the same technology to automate the administration required when staff are off sick. The company typically handles 25,000 sickness reports each year, each of which takes two minutes – a total of at least 100 working days a year.
"Now we have a robot that scans the functional email address [for medical notes], opens the PDF, scans it to see who's report it is, uploads it to the person's illness manager [portal] and closes down the application," said Van Ierland, in an interview at the Unleash World Conference and Expo in Amsterdam.
The robot checks the inbox at 9am, 1pm and 5pm, spending 10 to 15 minutes each time, but with the robot on duty for 168 hours a week, this leaves plenty of time for other tasks.
"Unlike humans, robots do not go to the toilet, do not go on holiday, they don't chat at the coffee machine," said Van Ierland.
The HR team has identified 28 HR services that can benefit from robotic process automation (RPA). They include planning road transport, and the allocation of resources on trucks to make deliveries between depots. That will free people up to manage peaks and troughs throughout the season, such as the surge of deliveries during the Christmas period.
The work has so far enabled PostNL to reduce its headcount in its HR department by 30%, from 530 full-time equivalent employees, to 370.
Automation will allow PostNL to reduce its HR services department by 15% while improving the quality of service, potentially freeing 20 HR staff from routine administrative work.
PostNL also expects to see significant benefits for automation in its call centres. The company is using mobile apps to train its call centre agents on how to answer questions from customers. "By using the app they learn twice as fast, they provide better answers to our customers, and they are more confident in their jobs," said Van Ierland.
In the future, it will be possible for customers to interact with algorithms with the ability to learn, that will be able to answer any questions. Phone calls will be handled by a mixture of human and robotic assistants.
Staff engagement can bring big returns
Some of the biggest benefits could come from using HR technology to help employees become more engaged in their work through a combination of eliminating mundane tasks and better management.
It is notoriously difficult to calculate the value of investing in HR technology, but Van Ierland has presented a convincing case to the PostNL board that improving engagement across the company could dramatically increase the company's valuation.
By using data analytics, PostNL has discovered that employees with low engagement scores are more likely to be absent from work than those with higher engagement scores. The sickness rate for highly engaged members of staff is 3%, compared with 7% for those with low engagement – a difference of 4%.
"Every percentage of absenteeism is worth €5m in direct cost. The 4% [difference in absenteeism between highly engaged and low-engaged employees] is €20m, and if the business is valued at a multiple of six times turnover, that adds up to a value of €120m," said Van Ierland.
The HR team is analysing the profiles of those people who are highly engaged, and recommending actions it can prioritise that will encourage other employees in the organisation to become more engaged.
"We expect to release €80m of value by investing only €1m," said van Ireland. "That is a great pitch to [to the board] and it has got us a seat at the table."
Big bang theory
Part of PostNL's efficiency drive is to move its IT systems to the cloud. It began in 2012, and has now moved some 800 systems from on-premise IT, making the organisation nearly fully cloud-based.
It migrated its HR IT systems to SuccessFactor's cloud service, supplied by SAP, in a "big bang" operation in September 2017, covering all 40,000 employees in one go.
The company had previously been using a customised core HR system, called ESS MSS, built by SAP and running on on-premise hardware. The transition meant converting 20 million data records from SAP ESS MSS to SuccessFactors. The older system had only limited capabilities for managers to update employee data.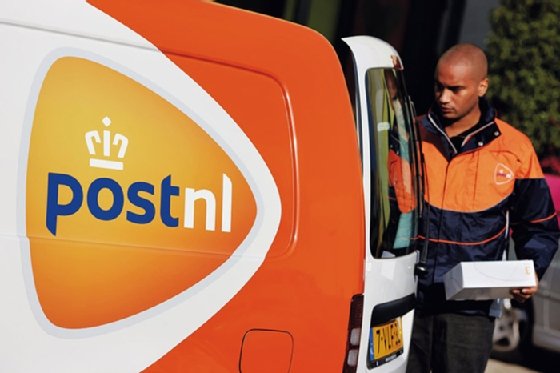 More than 100 people were involved in the project, which was meticulously planned, said Van Ierland. They included more than 50 internal staff, along with staff from implementation partners, including Huris and Launch! HCM.
At one point, it did not look like the company would meet the switchover deadline. "Because our peak season starts in the period after September. I am glad we managed to pull it off," said Van Ierland.
Two weeks beforehand, the company locked down its HR systems to allow final regression testing. For a company recruiting more than 12,000 people a year, the decision caused some ripples.
"People were saying, 'How can HR do this? How can they shut down this system for two weeks?' There was a lot for me to explain, but I said we have to go through this pain for two weeks," said Van Ierland.
PostNL had been using SAP's technology for its finance systems for a long time, so it made strategic sense to use SAP's cloud HR technology, although PostNL did consider alternatives.
The company is using the full range of SuccessFactors HR modules, aside from SAP's social media and collaboration software Jam and workforce analytics. It plans to roll out SAP's payroll in the cloud in January 2019, and is deploying SAP's Fieldglass software to manage temporary workers and contractors.
By opting for technology from SAP, Van Ireland said it meant the company could rely on the software supplier to complete technically difficult integrations between different SAP modules, rather than do the work in-house.
That was particularly valuable for implementing the European General Data Protection Regulation (GDPR). "If we attempted that change in our old [software] environment, we probably would not have pulled that off," he said.
Raising future leaders
PostNL is growing at more than 20% a year, which means that it will have doubled in size within four years to a company with a valuation of €1.2bn.
That has placed a high priority on succession planning, as the company will need leaders capable of managing a company operating at a significantly greater scale within a few years.
"Before we take Jack, because he is a good guy, we may consider doing some thorough assessments, and asking if this is the guy we need when our company has a €1bn valuation," said Van Ierland.
HR should be invisible
Van Ierland argues that HR processes should be invisible to the people using them.
"Who has ever called Netflix to help them figure out how to stream video? Has anyone ever called the Spotify helpdesk to help them stream some music? Probably no one," he said. "HR services is a factory that should run like clockwork. It needs to be highly efficient."
Robots, drones and self-driving vans
PostNL, which employs 45,000 people and has a turnover of €3.5bn, has to make difficult decisions about which technologies to invest in.
The company has to strike a balance between technology that is more experimental and will give it a head start over competitors, and waiting for technology to be fully ready at the risk of deploying it later than its competitors.
At one of its depots, PostNL is testing technology that is capable of reading addresses on parcels as they travel down a conveyor belt. It is able to illuminate them with a number, which tells the driver where the parcel should be placed in the delivery van.
"We have the projector reading six or eight parcels at the same time. The driver loading the vehicle can immediately pick, for example, three parcels with the number '4' projected on them and put them in the same corner of the van," said Van Ierland.
PostNL plans to roll the technology out to its remaining depots over the next year or two.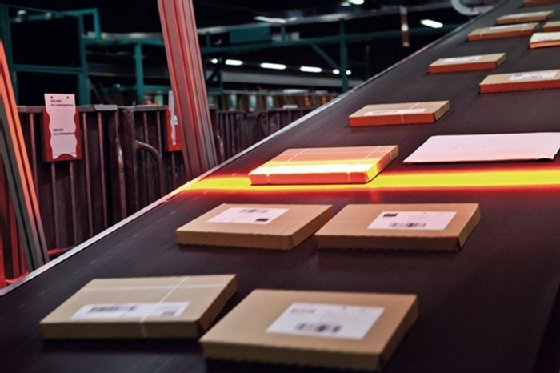 Drone delivery versus autonomous vehicles
In the future, PostNL is considering using large drones, the size of a small helicopter, to move letters from one delivery depot to another.
The company's depots are between 40 and 60 miles apart, and at fixed locations with flat roofs, which makes drone deliveries a real possibility.
"They are locations that are probably quite suitable for drones to land. Because of traffic congestion we could greatly reduce the time it takes to exchange volumes of letters between our depots," said Van Ierland.
Whether this becomes a reality depends less on technology, and more on practicalities, such as legislative restrictions and geography, and also whether driverless technology becomes a better bet.
Van Ierland expects driverless transport in the next five to seven years. "The question is, if autonomous driving, like platooning, takes a surge, will you invest in a driverless vehicle on the road or a drone? I would say, invest in driverless vehicles," he said.
PostNL in numbers
PostNL has 4,000 post offices and has been delivering post for 220 years.
Over the past 20 years, deliveries of mail have fallen from 25 million items a day to eight million, its parcel business has grown by 220%, and the ratio of letters to parcels has moved from 100:1 to 10:1.
PostNL plans to use electric vehicles to make deliveries in 25 cities with zero emissions by 2025.
Read more on Artificial intelligence, automation and robotics