Warakorn - Fotolia
Data analytics is about culture, not technology
Enterprises need to figure out the business problems they are trying to solve and foster a data-driven culture to benefit from data analytics
Even as data analytics emerges from the back room and becomes as ubiquitous as the camera in a smartphone, the vital ingredient for analytics success is not technology, but having a data-driven culture.
Speakers at the Singapore launch of Tableau's new data preparation tool said the growing prevalence of data analytics is due to the exponential growth in data volume and leaps in computing power. This presents huge opportunities for organisations to innovate and optimise their businesses.
"Data is the lifeblood of pervasive innovation," said JY Pook, senior vice-president at Tableau Asia Pacific. "Everyone should be skilful in making decisions based on data on behalf of their organisation. We see smart nation initiatives, organisations and tertiary institutions all working towards understanding their data, and building a data culture."
For example, the Singapore Sports Institute, a government statutory board, uses analytics to analyse the performance of more than 70 high-performance athletes to help them train effectively for competitions and forecast success.
"In the future, competitiveness is going to be determined by the ability of organisations to manage data," said Fermin Diez, an adjunct professor at Singapore Management University.
Diez gave the example of how ride-hailing companies Grab and Uber both harness analytics in their operations, but Grab gained the upper hand through better use of technology.
He noted that although Uber, a global competitor, had entered Asia with a superior platform, Malaysian startup Grab used analytics to understand driver and customer needs better, eventually overtaking Uber in market share.
Read more about data analytics in APAC
In fact, more than 60% of Grab's staff engage in data analysis, said Diez. "We are seeing a broadening of analytics skills to as many people as possible, instead of depending only on data scientists who may seem like high priests in black robes in some back room gazing into crystal balls," he quipped.
It is a challenge to prepare the data for analysis because it may be in the wrong shape or residing in disparate sources. A recent Harvard Business Review study found that people spend 80% of their time cleaning and shaping data, and only 20% of their time analysing it.
Besides having clean data, Diez said the main challenge is to convince people that data analytics does not always start with data.
We are seeing a broadening of analytics skills to as many people as possible, instead of depending only on data scientists who may seem like high priests in black robes in some back room gazing into crystal balls.

JY Pook, Tableau
"You need to figure out the business problem you are trying to solve," he said, adding that organisations should consider the hypotheses they need to prove, or disprove, before figuring out what data to look at.
He gave the example of how HR departments tend to link employee turnover to pay, while another approach is to explore the relationship between turnover and company profits.
A trailblazer in this space is Merck Group. The global life science and technology company is using HR data to make business processes more efficient. It has rolled out an analytics app that allows managers and HR employees to compile real-time data for business units. This data is combined with payroll, accounting and employee engagement data to enable decision-making on a variety of issues.
"We often say we have this data and ask what insights it throws up…but part of the problem is that we haven't trained people to ask a question and then look at data," said Diez. "That type of fishing is much harder."
Despite the challenges for emerging ASEAN countries to adopt analytics technology, some have made headway.
"The pace of innovation and adoption of modern business intelligence and analytics is amazing in some subsidiaries [in emerging countries]," said Tableau's Pook. "They are very nimble and fast. They are doing things in the analytics space that their parent company is not doing yet."
Content Continues Below

Download this free guide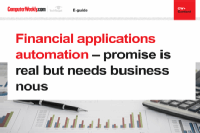 Financial applications automation – promise is real but needs business nous
The automation of the financial software that lies at the heart of any business & accountancy, budget management, general ledger, payroll, and so on & is a prize many organisations are eyeing up, with machine learning and robotic process automation close to mind. Find out everything you need to know by downloading this PDF E-Guide.
Read more on Business intelligence and analytics