NicoElNino - Fotolia
Firms will use AI to automate HR processes within two years
Companies are gearing up to automate HR processes with artificial intelligence and machine learning, while at the same time battling with outdated IT systems
Artificial intelligence (AI) and machine learning will have a significant impact on the way companies manage their workforces within two years.
Research by analyst group Fosway and Unleash reveals that organisations are looking to deploy chatbots and machine learning technology to provide better HR (human resources) services to their employees.
The findings come at a time when most HR professionals say their existing systems are not yet ready to meet the needs of the workforce.
Technology companies are developing AI, chatbots and natural language processing to make it easier for employers and managers to deal with administrative HR tasks.
"For businesses, it will have a significant impact on productivity – people will spend less time trying to do stuff," said David Wilson, founder and CEO of Fosway Group. "They have the right information presented to them at the right time. It will impact quality of decisions."
Chatbots capable of understanding natural language will allow employees to book time off and make enquiries about their salaries from their computers without having to log in to HR software.
Companies will also deploy software that will use machine learning algorithms to provide employees and managers with the information they are most likely to need, based on their roles and previous requests, in the same way that Amazon and Netflix make recommendations for products and films tailored to each customer.
Healthcare company Philips, for example, is evaluating machine learning technology that will recommend training courses relevant of the needs of each employee, and help them to move up to the next level in their career.
Peter Meerman, director of global learning systems at Philips, said machine learning had the potential to support people in their work, but the technology also raises deeper questions of trust.
"When a machine learning algorithm gives a recommendation, is that really based on my personal situation, requirements and context, or is it because a company wants to push to me?" he said. "As a consumer, you have no way of knowing."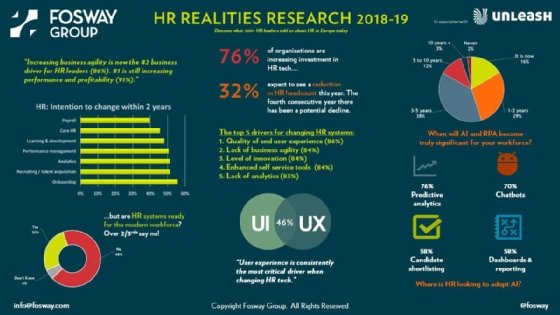 The research, based on interviews with 500 HR professionals across Europe, shows that although companies have their minds on future technologies, most are also struggling with their existing HR systems. Nearly 70% say their current IT systems do not meet the needs of the modern workforce.
"HR is struggling to keep up with the level of change under way," said Fosway's Wilson. "It is struggling to be digital, to be agile, and struggling with demographic changes in the workforce."
At the same time, HR departments are getting smaller, with 32% of HR professionals saying they expect HR headcounts to reduce.
Also, HR professionals say board executives are dissatisfied with how their HR organisations are deploying workforce analytics, the lack of automation to bring on new employees, and the quality of workforce management, recruiting and succession management.
"Because companies don't have coherent, joined-up core data, having a big data view that drives workforce decisions is still more an aspiration than a reality," said Wilson.
One of the biggest priorities for companies is to improve the way they bring new employees on board, and more than half to invest in technology to manage the process over the next two years.
High turnover of staff
Most companies do not have systems in place for on-boarding, and if they do, they don't do it efficiently and they don't do it well, said Wilson. This can lead to a high turnover of staff because people do not feel valued.
According to the research, businesses to step up their spending in all areas of HR technology, and the top areas for investment are analytics, recruiting, learning and talent management.
In the UK, the main driver for investing in HR IT is the need to offer employees the same level of user experience they are used to with consumer technology.
Most companies are running on outdated, on-premise HR technology that is difficult to use, said Wilson. About two-thirds of them have decentralised HR teams using multiple HR IT systems that do not link together or provide an overall picture of the company's workforce.
Organisations need to become more agile about they way they HR IT systems, said Wilson. That may mean working on multiple projects simultaneously.

"Conservative HR IT strategies are not going to cut it any more," he said. "Deployments taking 18 months-plus are rapidly becoming a distant ."