Triumph Motorcycles
Triumph Motorcycles kick-starts changes with high-tech HR
The Leicestershire-based motorcycle company is deploying IT systems to give customers and its own staff a 'premium brand experience'
British motorcycle company Triumph is investing in software that will allow its customers to specify the features and accessories they want in their custom bike right up until the day it hits the assembly line.
The company, based in Hinckley, Leicestershire, plans to exchange data with its dealer network, allowing customers to make last-minute changes to their order while giving dealers an accurate delivery date for the bike.
At the same time, the company is investing in cloud-based technology that will give its own staff a "premium experience" at work that matches the service it offers to customers, said Jonathan Parsons, human resources director at Triumph Motorcycles.
"The company has been positioned in a premium way, but the external brand image we had became disconnected from how the company felt internally," he said.
The £500m turnover company, which was rescued by businessman John Bloor after Triumph Engineering went into receivership in 1983, has been making motorcycles for over 100 years.
It plans to roll out enterprise resource planning (ERP) and customer relationship management (CRM) software in spring 2019 that will give buyers the ability to customise their bikes and receive a precise delivery date.
"A customer will be able to walk into a dealership, point to a motorbike that he likes, say he wants that bike in yellow, and know accurately what date he will receive that bike," Parsons told Computer Weekly.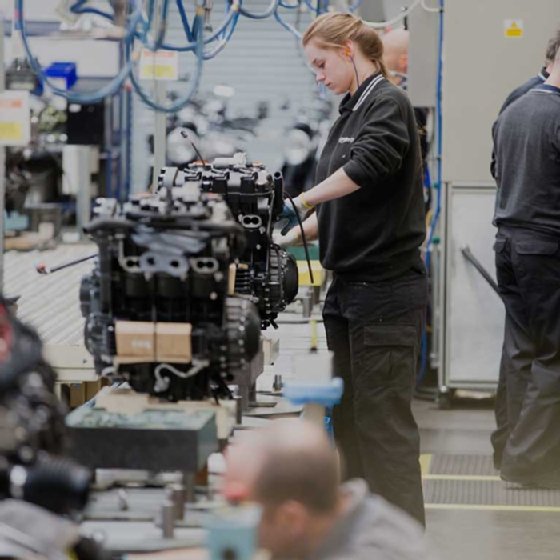 Triumph's customers will be able to stream video feeds showing the progress of their custom-made bikes as they are assembled in the factory.
The company, which has manufacturing and assembly operations in the UK, Thailand, Brazil and India, plans to deploy cloud-based HR software, which it says will give its own employees a similar slick experience at work, using a custom-designed human resources (HR) portal.
Triumph is replacing Excel spreadsheets and a basic HR database with a cloud-based HR service that will free employees and managers from much of the routine form filling required by HR.
Triumph's HR platform, known internally as Business Connected, will use technology from software company Infor to provide 2,500 employees and managers with HR services that have a "premium look and feel", said Parsons.
Triumph aims to deploy the human capital management (HCM) software in February and March 2019, as part of an 18-month project, split into several phases. The company currently relies on IBM AS400 servers, which will be phased out over time.
From manual to automatic
Parsons said the software would eliminate manual tasks, saving each line manager several hours in administrative duties each week. They will be able to approve holiday requests and answer other queries from their mobile phones, for example.
The HR team will be able to escape repetitive administrative work, giving them time to work more closely with line managers. "They will shift from being a quite reactive admin resource to being more proactive," said Parsons.
The company plans to link its CRM and cloud HR systems, in a move that will make it easier to manage the permissions that employees require to access data and IT systems.
"A customer will be able to walk into a dealership, point to a motorbike that he likes, say he wants that bike in yellow, and know accurately what date he will receive that bike"
Jonathan Parsons, Triumph Motorcycles
It will also allow the company to create profiles for new employees and delete the profiles of employees who have left the company.
Parsons described setting up a new employee and remembering to delete past users on Triumph's existing AS400 technology as "laborious".
In the future, Triumph is considering introducing chatbots, based around Infor's Coleman artificial intelligence (AI) technology, that will be able to answer HR queries automatically.
Triumph also has plans to use Infor's analytics software to help assemble teams with the right mix of skills for each motorcycle design project and for other team projects, said Parsons.
Employees will be able to complete a survey which will plot their strengths and weaknesses on a spider chart, allowing managers to create teams of people with complementary skills.
"If you think about a team designing a motorcycle, you might want more visionary, creative people on the project in the early stages. But towards the end of the development phase, you might want people who have attention to detail, with project management-type mindsets," said Parsons.
Stepping up a gear
Parsons said it took a year for the company to catalogue every HR process, but that was an essential starting point before choosing a technology supplier.
Triumph looked at multiple potential suppliers of HCM systems, including Workday and SAP's SuccessFactors, but found that most systems were designed for companies with 50,000 employees upwards.
It chose Infor's HR technology because it was more flexible and adaptable than alternative systems, said Parsons. Infor is also supplying the company with ERP and CRM software.
Triumph made its decision after speaking to other users of the technology, including shoe retailer Footlocker and Ferrari, which has a similar business model.
"[Ferrari is] not a mass producer of vehicles. It is relatively small scale, so that bespoke ability and focus on quality is parallel to Triumph," he said.
Parsons advises other organisations embarking on similar projects to modify their software as little as possible.
"We have taken the attitude that unless there is a really good reason, we have gone with [the processes] in Infor HCM because we are anxious to customise as little as possible," he said.
Read more about HR technology