Sergey Pristyazhnyuk - stock.ado
AI provides immediate diagnosis for serious eye conditions, research finds
Artificial intelligence could diagnose eye conditions within seconds, and with the same accuracy as human experts, research finds
Moorfields Eye Hospital NHS Foundation Trust could turn to artificial intelligence (AI) to diagnose serious eye conditions and potentially save the sight of hundreds of thousands of patients.
Together with DeepMind Health and the University College London Institute of Ophthalmology, Moorfields has published research data from a study using AI to diagnose eye conditions.
Using around one million depersonalised eye scans, covering more than 50 eye conditions, DeepMind's AI system detected disease and recommended further treatment.
The next step is to put the system through a series of clinical trials, as well as regulatory approval. If approved, the AI system would be available for Moorfields Eye Hospital's network of 30 hospitals and community clinics in the next five years. This could potentially help 300,000 patients a year.
Eye professionals currently rely on optical coherence tomography (OCT) scans to analyse the condition of a patient's eyes. But trained specialists and time are needed to analyse these complex scans, which slows diagnosis and treatment, according to Pearse Keane, consultant ophthalmologist at Moorfields.
"One of the challenges we face is being able to analyse the OCT scans and make the diagnosis in a timely fashion. Unfortunately, that delays people getting the treatment they need. All the evidence suggests that if we can get earlier diagnosis, we can start treatment earlier and we can save sight."
The AI will be able to analyse the data in seconds, yet at the same level as a human expert.
It uses two "networks" – the first shows a map of the eye and where it has found an issue, the second analyses this image and provides a diagnosis and recommendation for referral. Having the two systems is designed to prevent the black box analysis, where the AI presents its recommendation but does not demonstrate how it came to that decision.
The system will also give a percentage rating for how certain it is on its diagnosis.
DeepMind Health's research lead, Trevor Back, said: "The AI system we've been able to develop in collaboration with Moorfields is able to detect a wide range of different sight-threatening diseases in these CT scans, and to the accuracy of an expert doctor.
"It's also able to do it while providing information that enables eye care professionals to review the recommendation it makes. So the eye care professional can scrutinise that decision and ensure the right decision is taken for those patients."
The company's co-founder and head of applied AI, Mustafa Suleyman, said the dual-network system was "critically important, since eye care professionals are always going to play a key role in deciding the type of care and treatment a patient receives".
"Enabling them to scrutinise the technology's recommendations is key to making the system usable in practice," he said.
The technology will work with other eye scanners or OCT machines developed in the future.
DeepMind has been under scrutiny in recent years over its data-sharing deal with the NHS Royal Free Foundation Trust. In 2016, the company was able to access data on 1.6 million patients with health conditions ranging from HIV to abortion to drug overdose, for its Streams application.
In July 2017, the Information Commissioner's Office (ICO) found the agreement to be in breach of the Human Rights Act due to the lack of information provided to patients about how the data was processed or giving them the right to prevent this.
After the ICO's investigation, the trust accepted the decision and agreed to make the required changes to the app.
Read more about AI in healthcare
Content Continues Below

Download this free guide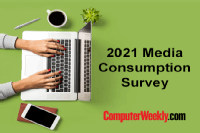 2021 Media Consumption Survey
Information is a powerful tool for IT decision-makers, and we understand that our readers enjoy consuming media in many different ways. With this in mind, we are trying to gain a better understanding of what content types our readership values the most. Please take 5 minutes to complete our media consumption survey, and help us shape our future content around your needs. As a thank you for participating, you will be entered into our draw to win a £250 Amazon gift card.