Production Perig - stock.adobe.c
AI will boost productivity in the NHS, says digital minister
Digital minister Margot James thinks artificial intelligence could liberate NHS clinicians and boost productivity across the health service
Artificial intelligence (AI) could have huge effects on productivity and improve treatment in the NHS if it is used correctly, according to digital minister Margot James.
Speaking at a fringe event at the Conservative Party Conference in Birmingham this week, James was keen to highlight the potential of AI, saying she thinks it will "boost productivity".
"The vast amount of data at the NHS's disposal going back to the 1950s is the reason why we will undoubtedly be world leaders in AI and health – as long as certain conditions are met," she said.
She also highlighted the study done by Moorfields Eye Hospital NHS Foundation Trust, together with DeepMind Health, which used around one million depersonalised eye scans, covering more than 50 eye conditions where DeepMind's AI system detected disease and recommended further treatment.
The system is now going to be put through a series of clinical trials and regulatory approval.
"[Use of AI] is already happening," said James. "There is a joint venture between Moorfields Eye Hospital and one of the deep data companies that is now responsible for diagnostics for glaucoma becoming more accurate and far swifter than even an eye surgeon or ophthalmologist could repeat."
In May 2017, experts said the NHS has the potential to transform the way it delivers care, but that it's currently not ready and needs a culture change. One of the other key issues is use of data and ensuring proper safeguards are in place, as well as making sure the data is clean enough and of good quality.
Read more about AI in the NHS
James added that AI could also improve the way staff work and "liberate consultants and surgeons" so they can perform "more interesting work and more surgery".
"In terms of deploying mixed realities to be able to perform surgery remotely, think of what that will do for overseas aid policy," she said. "It is absolutely fantastic what can be done."
James added that with proper principles and guidance in place, the NHS will be able to share data with companies able to improve treatment for "millions of patients all over the world".
Content Continues Below

Download this free guide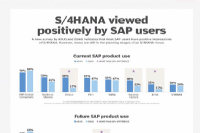 Infographic: S/4HANA viewed positively by SAP Users
SAP has recognised that customers will face challenges and costs when they upgrade to S/4 Hana. It has set out a roadmap to simplify integration, in a bid to lower the transition cost of moving from ECC to the S/4 platform. This infographic shows why most SAP users have positive impressions of SAP S/4Hana.
Read more on Artificial intelligence, automation and robotics