storm - stock.adobe.com
Case study: Mercedes F1 team makes gains with Pure Storage all-flash
Two years ago, the Mercedes AMG Formula 1 team deployed Pure Storage all-flash arrays in its datacentre and in mobile racks out on the circuit. It's a bet that has paid off for the racing team
In the space of two years, Mercedes AMG Petronas Formula 1 has transformed the core of its IT systems to all-flash storage, in a move that has improved performance and simplified its infrastructure.
According to IT director Matt Harris, the team started to replace its legacy storage systems with Pure all-flash at the beginning of 2016.
The move allowed performance improvements at its operations centre in Brackley, Berkshire, and, importantly, allowed for size and weight reductions in the racks that accompany the team as it moves from circuit to circuit.
Mercedes AMG Petronas deployed two Pure Storage Flash Array 450 arrays (since replaced by FlashArray //m70 arrays) at Brackley, and FlashArray //m20 hardware in its mobile datacentre.
Performance, simplicity and space savings
The team's previous storage hardware – from NetApp – had occupied 26U with a capacity of 40TB. Now, the pair of FlashArray //m20 arrays allow the circuit team to hold up to 88TB in just 6U. The team has two //m20 clusters – one out at the current circuit, the other ready to go to the next track.
According to Harris, just the reduction in weight has allowed the team to write off its outlay in less than two years because of reduced air freight costs. Added to that are the gains in performance and reliability, and the fact that FlashArray solid-state drives are less susceptible to physical failure than HDDs.
Harris says the Pure arrays are much faster than those they have replaced and allow the F1 team to process data in real time from car telemetry at the course.
During a competition weekend, around 300 sensors capture events approximately 100 times a second, which means the team collects more than 400GB of data in around two million measurement points. These data points are analysed in real time by the team to help optimise the car and detect potential problems.
The volume of data is limited by the performance of processors on the vehicles, which hasn't evolved since 2009.
With the Pure arrays, the time to load a dataset is, for example, reduced by more than 35%, which allows the 30-plus engineers who analyse the data to respond more rapidly to alerts and incidents, and especially to optimise vehicle tuning. Harris is also keen to point out the efficiency of data reduction on the Pure arrays.
In addition to the two FlashArray //m20 clusters used alternately at race circuits, the Mercedes AMG Formula 1 team relies on two FlashArray //m70 arrays at the Brackley operations centre.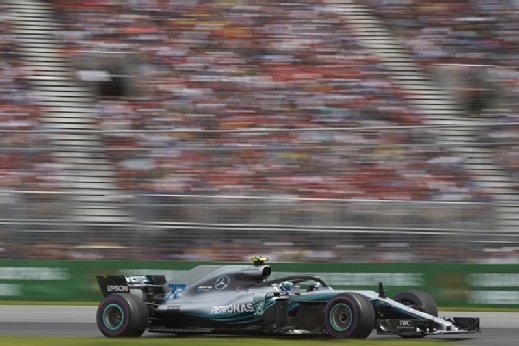 Harris says controller updates take less than half a day and take place without affecting the product. The IT chief is keen to trumpet the simplicity of Pure Storage updates in hardware and software. He emphasises that such simplicity is important with such a small IT team – just four people.
A recent example is the arrival of synchronous replication in the Purity operating system (OS). Thanks to the additions in capacity that resulted, Mercedes AMG Petronas has been able to stop using DataCore to replicate data between the two pairs of arrays. At the operations centre and out on the road, replication is now handled by Pure Storage ActiveCluster.
With that choice the team has simplified its replication process, and in the process improved performance, in terms of latency in particular. It has also made cost savings, with licence payments previously made to DataCore replaced by free licencing of ActiveCluster which comes as part of the Pure Storage software package.
The //m70 arrays at the operations centre look after the F1 team's legacy data as well as virtual machine data and data from its database management system. Deployment of all-flash has allowed the team to reduce processing time for SQL requests by around 95%, compared with previous HDD-equipped storage arrays. Requests that previously took hours now take minutes.
Flash for compute and analytics
In 2017, Mercedes AMG Petronas also replaced its existing Panasas scale-out NAS with Pure Storage FlashBlade to support a compute cluster of several thousand nodes for aerodynamics simulation applications. It uses analytics tools from Tibco and plans to deploy machine learning applications to make the most of data gathered at race events and in simulations.
"Deploying FlashBlade arrays has allowed us to radically simplify the configuration of the cluster," says Harris. This is down to eliminating the need to deploy specific clients on the nodes, to which access will be via network file system (NFS). This resulted in better performance, which is important because F1 rules limit aerodynamics processing time.
According to the Mercedes AMG Petronas IT chief, this storage upgrade has allowed it to gain more than two hours on a compute process that took 20 hours. Altogether, the team runs several FlashBlade chassis, with a total capacity of 400TB, and is set to bring these together in a single cluster.
While currently all applications connect to FlashBlade via NFS, Harris is interested in looking at object storage, which could prove useful for future deployments of analytics or machine learning.
Read more about flash storage