Sashkin - stock.adobe.com
Firms step up spending on digital tech, but struggle with strategy
Businesses and the public sector are stepping up their spending on digital technology, but many business leaders are struggling to keep pace with what it means for their business
Organisations have stepped up their spending on cutting-edge technologies, including artificial intelligence, blockchain and virtual reality, over the past 12 months, but many are struggling to develop a coherent strategy for their investment plans, according to research by Deloitte.
The consulting and audit firm's Digital Disruption Index, which surveyed executives in more than 100 FTSE companies, revealed that most executives feel they lack the skills and confidence to lead their organisations through the changes that digital technology will bring, and company leaders are concerned that their organisations lack people with the right knowledge and skills to deliver their digital strategies.
Over the past 12 months, the proportion of companies putting resources into artificial intelligence (AI) has nearly doubled to over 40%, according to Deloitte's Digital Disruption Index. By 2020, some 40% said they would have invested in blockchain, 35% in the internet of things (IoT), and 32% in virtual reality (VR) and augmented reality (AR).

Download this free guide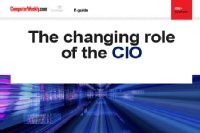 6 ways the role of the CIO is evolving
Read this essential guide on the changing role of the CIO to learn about the challenges and opportunities facing modern CIOs and the leadership skills they need to stay relevant in a digital age.
Read more on IT education and training