Gajus - Fotolia
Vodafone becomes largest next-gen broadband player in Europe
Vodafone has acquired the operations of Virgin Media parent Liberty Global in four European markets, giving it access to 110 million homes and businesses
Communications services provider (CSP) Vodafone has acquired the Czech, German, Hungarian and Romanian operations of Virgin Media parent, American cable and entertainment provider Liberty Global, for €18.6bn (£16.2bn).
The deal concludes more than three months of negotiations between the two firms over a potential acquisition – which, at one point, was rumoured to include Virgin Media assets in the UK.
It greatly expands Vodafone's network footprint, giving it 54 million cable and fibre customers on-net, and a total reach of 110 million premises, including through wholesale arrangements.
Vodafone said that in Germany, where the purchase of Liberty's UnityMedia gives it the ability to address 13 million homes and 7.2 million existing customers, it could now mount a credible challenge to the dominant incumbent provider.
Meanwhile, through the acquisition of the local arms of CSP UPC in Czechia, Hungary and Romania, it gains access to 33%, 43% and 41% of total households respectively, and 2.4 million new customers.
"This transaction will create the first truly converged pan-European champion of competition," said Vodafone Group chief executive Vittorio Colao. "It represents a step change in Europe's transition to a gigabit society and a transformative combination for Vodafone that will generate significant value for shareholders.
"We are committed to accelerating and deepening investment in next-generation mobile and fixed networks, building on Vodafone's track record of ensuring that customers benefits from the choice of a strong and sustainable challenger to dominant incumbent operators.
"Vodafone will become Europe's leading next-generation network owner, serving the largest number of mobile customers and households across the EU," added Colao.

In the UK, while Virgin Media was not included in the deal, the two firms are set to clash more directly as Vodafone's consumer fibre-to-the-premises (FTTP) roll-out, which is being conducted through a joint venture with CityFibre, gathers a head of steam.
Vodafone hopes to be able to supply five million homes through its collaboration by 2025, while Virgin Media currently supplies broadband, fixed-line and video services to 5.9 million customers through a mix of the cable TV infrastructure built by its predecessors and new FTTP networks – as of the end of the first quarter, Virgin claims that 73% of its broadband subscribers can access an ultrafast service of more than 100Mbps.
Read more about broadband
Content Continues Below

Download this free guide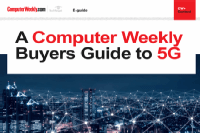 A Computer Weekly Buyers Guide to 5G
Despite the fears of many that rollouts of the next generation infrastructure would be delayed or just not be possible due mainly to the adverse economic conditions caused by Covid-19, the prospects are actually quite bright for the 5G industry in 2021. Download this EGuide to find out what enterprises need to know about 5G.
Read more on Telecoms networks and broadband communications