HP and Diageo take different paths to cloud-based HR
HP and Diageo took very different approaches when they deployed cloud-based human resources (HR) software from Workday
If you are a multinational company and you want to replace your global IT systems, should you go for a big bang project or a phased roll out?
Multinational corporations HP and Diageo took very different approaches when they deployed cloud-based human resources (HR) software from Workday.
Workday is one of the big three HR technology specialists alongside Oracle and SAP.
HP's big bang
Computer hardware manufacturer HP has chosen the big bang approach, as it embarks on a project to roll out cloud-based HR software to 300,000 employees in 111 countries over the next six months.
"It's been like a marathon. It's about designing brand new processes, starting from a blank sheet of paper," said Cyrille Charpin, senior director of HR IT at the IT supplier.
HP plans to transfer more than 17 million records from legacy HR systems to a cloud-based HR system supplied by Workday.
One stop shop for employees
The project will allow HP to consolidate its HR systems on to a single platform that will provide a one stop shop for managers and employees.
The cloud HR service will be simpler and more engaging for managers and employees to use than the company's legacy IT systems, said Charpin, speaking at the HR IT conference, HR Tech Europe.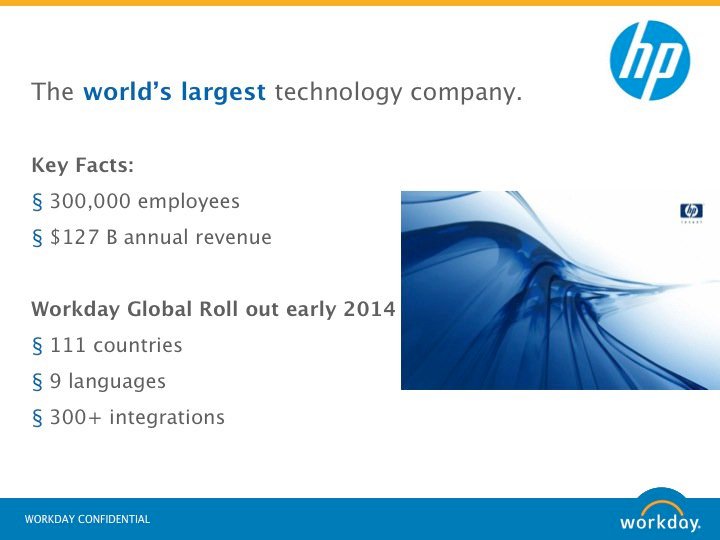 Far more employees and managers will want to make use of its self-service HR capabilities, he said.
"That will drive more data, more accuracy of data, more quality of data, which will drive better analytics," he told delegates at the HR Technology Europe Conference.
User experience team
The company has set up an internal user experience team, which is liaising with Workday, to make its HR service as easy to use for HP employees as possible.
"It's that feeling we are together in that same boat to achieve, and to resolve a problem," he said.
The project will free up HP's HR teams from the day-to-day tasks of managing people to focus on more strategic work.
Workday
Workday is one of the three core HR technology providers, competing with both Oracle and SAP.
The company has stolen an early march on its competitors by delivering cloud-based HR systems to hundreds of large corporations.
But SAP and Oracle are fast catching up, following some strategic technology acquisitions, said HR technology analyst Josh Bersin of Bersin by Deloitte. Both companies now have more than 100 large cloud implementations each.
"Workday is ahead, but it has woken the sleeping giant in the other two companies," he said.
Bersin describes Workday as the Apple of HR technology. The technology works beautifully, but if you want to add technology that is not built by Workday, you have to bolt it on.
Oracle and SAP are following a different strategy. They are prepared to buy cutting-edge HR technology and integrate it into their own products.
It probably makes sense, however, for companies that have already invested in SAP or Oracle technology to use SAP or Oracle for their HR systems.
"The problem with Workday is that it's a replacement strategy. You can't put in Workday without replacing everything else," he said.
Nevertheless, the fact that Workday was able to present executives from two multinational companies on stage together at a major HR technology conference shows its market strength, claim industry watchers.
"Diageo and HP on stage proves the case that Workday is the market leader. You are not going to see SAP or Oracle put people on stage like that," said Jason Averbook, chief business innovation officer with cloud technology consultant Appirio.
HR will focus on strategic issues
Tasks that previously fell to HR will be able to be carried out by people managers, leaving the HR teams to focus strategically on workforce development.
"HR [will focus] on business consulting, looking at a three-year plan for the workforce and how we put strategies into operation, and leave day-to-day work to people managers, "he said.
HP is using the IT implementation to reinvent and rebuild its HR processes, said Charpin.
HP's aim is to make HR processes as global as possible, while still trying to meet the individual legal requirements of each country, he said.
For example, HP has streamlined more than 1,000 different types of employee leave requests, used throughout the organisation, to just 100.
Moving HR to a software as a service (SaaS) model, will allow HP to benefit from rapid innovation in HR technology.
"We get innovation right away, as soon it's in the product. We don't need to wait for the project team. You get innovation as business as usual," he said.
Scalability worries
HP was initially apprehensive about moving its HR data into the cloud, Charpin revealed. It took a lot of due diligence before HP was convinced that it could port its HR data safely to the cloud.
"The second concern was scalability. It was not clear that anything that can work for most companies will work for HP, due to the volume of transactions we have," he said
When HP first approached Workday, the company was honest enough to say that it was not yet ready to offer HR services for a company of HP's size, he said.
Diageo opts for gradual roll out
In contrast to HP, Diageo, the drinks manufacturer that owns iconic brands such as Johnny Walker whisky, has opted for a phased roll-out of its HR system.
The company is deploying Workday's HR software as a service to 36,000 employees in 80 countries, region by region. So far it has deployed the technology in the Americas and has plans to roll out in Africa, Europe and Asia.
The project will underpin Diageo's plans to grow its business worldwide, said Catriona Mackie, global first point director of Diageo.
Fragmented HR technology
"When you look at our HR technology landscape throughout world, it was very fragmented. We were looking for something that gave us a lot more standardisation and consolidation," she said.
The project will allow the company to introduce HR shared service centres covering its operations worldwide, and provide the company with detailed analytical data on its workforce.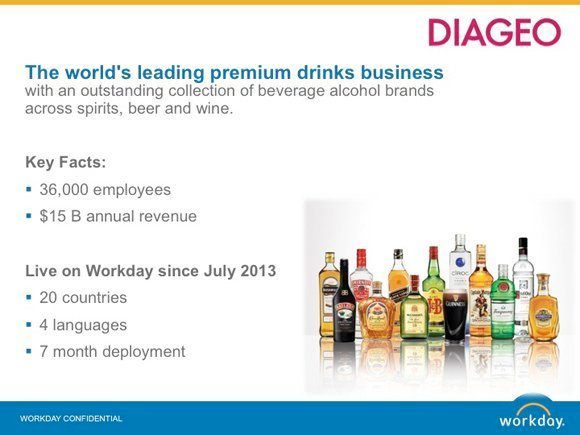 Much of Diageo's growth is moving from established markets to developing markets. The Workday cloud services will help the company recruit and retain the people it needs, said Mackie.
Initially, Diageo had doubts that Workday's technology could do everything that Diageo needed, but the company was able to work with Workday to refine the software.
"Talent management is an enormous thing for our company. Talent and workforce planning capability is something we see as critical to our success," she said.
Redesigning HR processes
The first phase of the project required Diageo's HR team to redesign its HR processes, so that employees could complete HR transactions, such as booking holidays, without requiring approval from HR managers.
The company was adamant that, rather than having to rely on an implementation partner, it wanted its HR team to become expert in the technology.
We "buddied-up" our HR practitioners with external consultants working on the project so they could learn, said Mackie.
Shared experience
Diageo is now sharing its experience of using Workday with other Workday customers, to help define the future development of the technology.
More stories from HR Tech Europe 2013
Cutting-edge startups battle to transform HR
Technology will make businesses more 'human'
The perfect storm comes to talent management
Engineering firm aims to 'Googlise HR'
"You have to get in a different mindset as a customer. As a customer of Workday you are involved in community, in design factors, in brainstorming," she said.
The system is allowing HR managers in Diageo to retrieve data and analyse the workforce much quicker than previously possible, she said.
"As a line manager, I might want to do a talent review, or I might want to know some data about our people. We would spend time pulling data from different systems, producing Powerpoints and nice graphs," she said. "With the Workday technology everything is already there."
The system also makes it easier for employees to check the progress of their own HR enquiries.
They can see, for example, if a query is still with their boss, waiting for approval, without having to involve the HR department.