Customer experience marketing is in the cloud of confusion
Customers. Let's be honest, they're an expensive pain in the assets. You can never do enough for them so who'd blame you if you took a leaf out of one famous telco's book and didn't bother?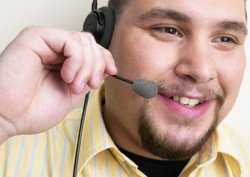 Customers. Let's be honest, they're an expensive pain in the assets.
You can never do enough for them so who'd blame you if you took a leaf out of one famous telco's book and didn't bother?
The problem today is that customers are a bit more savvy and know they can vote with their feet. This makes them dangerously volatile. Customers have always known their revenues are the lifeblood of any company, but it's only recently that they've learned how to use this weapon. These days the subscribers of any kind of mobile telecom are formidable punchers. In one hand they have the dynamite that is the PAC code. In the other, they're armed with the wrecking ball of social media.
The upshot of this is that communications service providers have had to learn how to keep the customer happy. So customer relationship marketing needed to evolve. It's no longer about amassing information on the customer and bombarding them with phone calls. Customer stalking has gone out of fashion, possibly because the customer never considered they had a relationship with a big corporation just because they once ordered some goods from it; that's the sort of relationship that ends in a restraining order.
Instead, companies have been forced to take a long hard look at themselves and find out what they were doing wrong. The systems for automating this introspection have been dubbed 'customer experience management' (CEM) platforms.
We asked some top CEM vendors how CSPs can keep the customer experience positive.
The first tip, chosen at random, comes from Chris Koopmans, chief operating officer at Bytemobile, who advises that capacity is key, bandwidth should be optimised and you should watch and learn your subscriber's behaviour.
Nope. Doesn't do it for me.
There are massive volumes of data in the customer experience, says David Ffoulkes-Jones, CEO of WDS, which handles 600,000 customer support interactions per year on behalf of mobile operators.
"There is far greater volume of data on the customer experience but it only works if it's properly exploited," says Ffoulkes-Jones. In other words, too many companies over complicate things.
Well of course it's going to be complicated. There's so many elements to bring together, explains Nokia Siemens Networks' head of marketing and customer engagement, Araceli del Rio. "We collate information about the customer experience from all kinds of sources, from key performance indicators to social networks," says del Rio. "Then CSPs can use that information to take actions that make the customer experience better."
So if Johnny VIP is in Earl's Court and wants to download a YouTube video onto his Nokia Lumia, the network can see he's a power user and automatically boot all the hoi polloi off the network in that area and save all the bandwidth for him. So the CEM acts like a sort of doorman, stretching a metaphorical red rope across the airwaves and keeping out anyone who isn't on the guestlist.
No, it's the BSS/OSS systems that does all the enforcement on the network. The CEM in this case is like one of those bossy greeters who walk around with a clipboard and a headset, constantly making snap judgements about who gets to jump the queue and who looks like the wrong sort.
Hang on, CSPs are famous for having tons of ruggedly independent databases of information, like billing records, network information, call records, none of which are easily cross referenced. So sometimes the information will come through too slowly and Johnny VIP will be left outside the club, shouting don't you know who I am? Meanwhile, the BSS/OSS systems will be accused of being thuggish and picking on the wrong person.
Perhaps there's a simpler explanation of how it works. A CEM like Syniverse sits at the centre of the mobile ecosystem, enabling interoperability globally, with roaming, network and messaging solutions, according to Mary Clark, SVP roaming for Syniverse.
No, can't get my head around that.
Let's try Arieso's explanation. CEM technology provides a rich source of intelligence that allows operators to put customer centric, location awareness at the heart of informed business decision making.
I still like my bouncer metaphor better. I can picture that. I can't picture anyone being customer centric and location aware while making informed business decisions. Bloody hell, talk about over complicating things.
Let's try another perspective. "We see OTT services such as app stores become the dominant model," begins Dr Lars Pedersen, CEO of CommProve. Now we're looking at dominant models in app stores? It sounds like the man who couldn't get into the nightclub has decided to wander around Soho, considering his options.
Perhaps we need a simpler explanation. Customer revenues are the lifeblood of an organisation, someone explains. The mobile operators are in a brutal competition. So, like gladiators, they're constantly making each other bleed, hitting each other with sharp marketing campaigns that could cause a fatal hemorrhage of subscribers. So think of the CEM as a sort of wound healer. But it's not organic enough to be a blood clotting mechanism. Not yet.
So for the moment, a CEM is like something you press onto the wound to stem the flow of lifeblood. And what's the crudest most effective way of stopping customer loss? Try being polite. Apologise when the network is down. Compensate the customers. Stop insulting their intelligence with stupid marketing campaigns involving Yoda.
You wonder about the mentality of corporate marketing directors. They worry about the half of their marketing that isn't working. They should look on the bright side. All of their advertising is laced with small print and terms and conditions that apply, so they're not doing too badly.
If you want to stop losing customers, try being polite and don't treat the customers with contempt. That would be a good start on the customer experience journey.
Good manners cost nothing, which is why even accountants and financial directors might be willing to give it a try.
Image courtesy: Creatas