Disaster recovery technology options are removing DR planning obstacles
Server virtualisation and the cloud are being used as disaster recovery technology options, making the task considerably easier than the not-too-distant past and removing excuses for not doing it.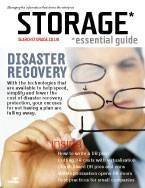 Disaster recovery technology has seen some big advancements in just the past few years. Server virtualisation and the cloud are making the job a lot easier, but the disaster recovery planning process is a business function that can't be automated. Download this free Essential Guide to disaster recovery technology options and learn about the technologies available to help with your DR plan, including how to cut costs with virtualisation, how to write a DR plan, the pros and cons of cloud disaster recovery, and more.
Disaster recovery has assumed a heightened profile over the past few years. So much so that looking back to only five years ago seems like the Dark Ages from here. It was common to come across many businesses without disaster recovery plans or provision. I'm sure it still is, but with the mushrooming of disaster recovery technology in the past few years, there's no excuse nowadays.
On the one hand, there have been strong push factors impelling organisations towards effective disaster recovery planning.
This can take the form of legal and regulatory compliance. Financial services players, for example, have prescribed levels of disaster recovery in place. Regulations such as Basel II, MiFID and those of the UK Financial Services Authority dictate the standard of disaster recovery expected, the minimum distance of secondary sites, etc.
Good business sense is also a driver. Again, in the financial services sector, for example, the need for rapid failover to a secondary site is not only driven by regulation but also by the bottom line. In algorithmic trading, milliseconds are worth millions every year, and the financial services company that doesn't resume trading again within seconds of an outage will lose money hand over fist.
Damage to reputation and future ability to trade are the bottom lines that disaster recovery must protect against. There are chilling statistics about the number of businesses that never recover from an IT disaster, and those that do -- but too slowly -- are likely to suffer a hemorrhage of customers and a slower but inexorable death.
But enough of the doom and gloom. While there are compelling push factors driving the need for a sound disaster recovery strategy, the good news is that there are some very attractive pull factors that make disaster recovery potentially easier, less costly and less of a management headache than it has ever been.
First of these is server virtualisation. Once upon a time, an effective disaster recovery strategy meant that your secondary IT setup needed to be a carbon copy of your primary data centre. This was because applications -- OS, updates, patches and all -- were tied to one physical server.
Server virtualisation broke this link. The hypervisor now sits between applications and the physical device, and where once apps and data could be restored only to identical servers, now bare-metal restore on any device is possible. In fact, mirroring in real time or near real time can enable failover to the secondary server estate in minutes or seconds.
Now, it's true that in even the organisations that are most advanced in IT terms, not all servers are virtualised. But the fact that many -- probably a majority in most IT departments – are will make disaster recovery an easier task, with only a few servers needing to remain entirely physical. For many SMBs, however, chances are their entire server estate can be virtualised and disaster recovery made entirely independent of specific physical devices.
The cloud takes that theme to further logical conclusions. The provision of compute and storage facilities remotely by a service provider has been the buzz phrase in IT for the past couple of years. It's potentially a game changer in many areas, not least of which is disaster recovery.
Cloud disaster recovery offers remote resources to which your replicate data; then, should an outage occur, your company's employees can work from the cloud while your physical IT facilities are restored. It's early days, but at some point -- security and bandwidth permitting – this could be the standard by which all work.
Having said all that, there is one area of disaster recovery that hasn't necessarily gotten any easier. And that is the need to analyse risk, develop detailed plans, and test and train and continuously update them. In this Essential Guide, you will find pointers towards achieving these tasks.
Antony Adshead is bureau chief of SearchStorage.co.UK.