Director-class SAN switches handbook
Learn about the evolution of the director switches market, how director switches differ from standard switches, and how products from Brocade and Cisco compare.
Director-class SAN switches are designed for the needs of enterprise data centres, with port counts in the hundreds, and reliability and serviceability features easily surpassing that of fixed-port SAN switches.
Our Special Report on the director switches market examines the evolution of the SAN switch marketplace, explains the differences between standard switches and director switches, and presents a case study of one law firm's deployment of director switches. It also lays out the most important features of director-class SAN switches as well as detailed product specs for director switches from Brocade and Cisco.


SAN switch market: Director-class switches help fabrics grow
A growing need to consolidate storage and server hardware is driving demand for the high-capacity, resilient, chassis-based switches known as director-class SAN switches. Director-class SAN switches are more resilient than fixed SAN switches and allow Fibre Channel (FC) fabrics to grow their port count by the addition of extra modules. Learn more about today's SAN switch market and the benefits director switches can provide.


Director-class SAN switch product guide with Brocade, Cisco Systems specs
The director-class SAN switch is designed to be the core switch in a core-edge FC SAN topology. This guide explains the key features of director switch products, including port count, line card options, distance replication and support for Fibre Channel over Ethernet (FCoE). Check out our detailed specification list for the director switches available from Brocade and Cisco in our director-class SAN switch product guide.


Director-class SAN switch benefits: Scalability and reliability for SAN fabrics
Director-class SAN switches can scale with growing SAN fabrics while increasing security and application support in the SAN topology. Steve Pinder, principal consultant at GlassHouse Technologies (UK), discusses the business drivers behind the increasing popularity of director switches. Check out this interview to learn about addressing the scalability and reliability needs of SAN fabrics with director-class SAN switches.

Download this free guide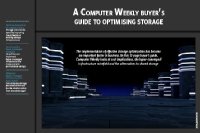 Computer Weekly's buyers guide to optimising storage
In this 12-page buyer's guide, we look at cost implications of effective storage optimisation, the hyper-converged infrastructure minefield and the alternatives to shared storage.
Read more on Storage fabric, switches and networks